2022 GMC Hummer EV Review: Big, Bad And All-Electric
The new, all-electric Hummer bests its gas-guzzling predecessor in performance while maintaining its massive stature.
The original Hummer embodied excess and oomph. It wasn't a luxury SUV or even a go-to off-roader. But it was still fancy in a big, braggadocious sense. Some were fitted with huge rims, while others were turned into limousines with integrated champagne bars. And those Hummers sold.
Now GMC is now taking an unexpected path. The Hummer has been fully electrified, making it an alluring candidate for EV aficionados.
It's Still Massive And Imposing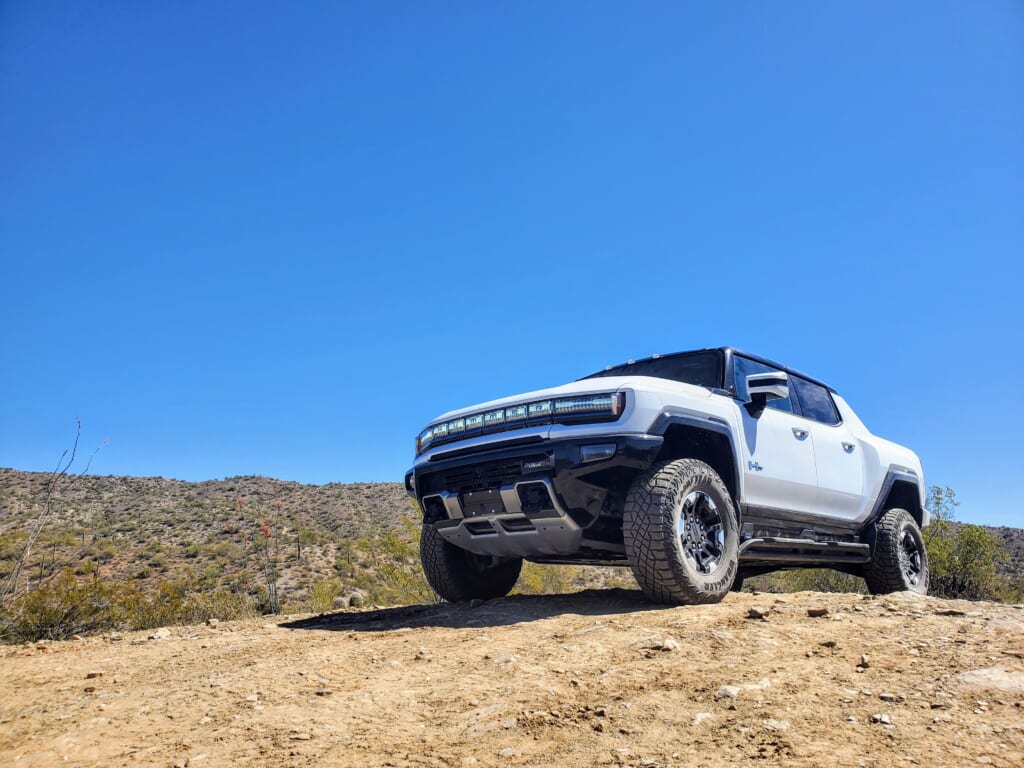 GMC decided to continue the big and bold design philosophy, even if the powertrain isn't fueled by liquid dinosaurs anymore. Measuring just over 18 feet long and a lick under 8 feet wide, the 2022 GMC Hummer EV's dimensions are roughly on-par with those of light-duty pickups. But it will take time to adjust to its size, especially in tighter corners of city streets or compact parking spots at your local supermarket. And there's plenty of tech is to help the driver in almost any comprehensible scenario.
Most of the electric SUVs currently on the market have gone for the same aerodynamic-friendly, tear-shaped design. The reasons are out there: Less wind resistance means less power drawn from the batteries and consequently a bigger range to boast about. Not the Hummer EV. Instead, GMC went for the demon lovechild of a classic Hummer and a moon buggy.
The front grille spells HUMMER, with the LED backlighting doubling as charging lights for when the truck is plugged in. The large wheel arches are ready to accommodate beefy 35-inch tires for off-road adventures. It may be possible to fit wheels up to 37 inches without any tampering with the chassis or suspension.
Trims
Currently, GMC offers the Hummer EV SUV Edition 1, with an MSRP of $105,595. Edition 1 Trim comes with 300-plus miles of range and up to 830hp and 11,500 pound-feet of torque from a 3-motor configuration. GMC states the Hummer EV is good for a 0-60mph time of 3 seconds.
Other upcoming iterations of the Hummer EV are as follows:
Hummer EV3x (available from spring 2023), with the same 830hp 3-motor configuration. MSRP $99,995
Hummer EV2x (available from spring 2023) with a 2-motor configuration, 625hp and 7,400 pound-feet of torque and up to 300 miles of range. MSRP $89,995
Hummer EV2x (available from spring 2024), with 2 electric motors and up to 250 miles of range, with an optionally available larger battery pack.
All Hummer EV trims except the base model can be optionally equipped with the Extreme Off-Road Package (standard on the Hummer EV Edition 1). What's so extreme about this package? For one, it comes with underbody armor and 35-inch tires, and an additional set of 18-inch wheels with Goodyear Wrangler Territory MT tires.
To boost protection further, skid plates are included for the front and rear differential, as well as for the battery pack. After all, you don't want to lose electrons in the middle of nowhere because of a sharp rock.
Rugged Patterns Inside-out
The over-the-top design philosophy follows you inside the cabin. While quality materials have been used all around the cockpit, the ruggedness of the design makes it feel purpose built for off-road adventures. A pair of 12-inch screens dominate the center console, controlling most of the infotainment functions as well as connectivity and climate controls.
Both screens come with the flashy Hummer user interface designed by the same studio that did effects for Black Panther and Iron Man movies. The roof is made from transparent panels that come off quite easily, turning the Hummer EV into a convertible.
The Hummer EV Drives Well
This is a large truck, and yet the technology embedded within its bones make it feel smaller when it's time to cram it in tight parking spaces. The four-wheel steering system has the front wheels turning as usual while the rear wheels can turn in the opposite direction, reducing turn radius. The rear wheels can also turn parallel with the front wheels, inducing the highly advertised crab walk feature. After getting used to the crab walk feature, you won't want to turn it off.
There is also the Watts To Freedom (WTF) feature. At the press of a button, the Hummer EV will prepare to launch at maximum attack speed, reaching 60 mph in 3 seconds. This feature has been heavily worked on by GMC, as it provides a stronger kick than most EVs out there.
It is worth noting that the GMC Hummer EV sits atop the Ultium platform, GMC's go-to for all future EVs of the brand including the newly announced electric Corvettes. The Hummer EV's general bulkiness and 9,000-pound curb weight don't go unnoticed when driving around, but the air suspension handles itself well and does a tremendous job minimizing induced roll.
Once you leave paved road and head towards the trails, the Hummer EV starts to shine. The four-wheel independent suspension, electronic locking differential and the plethora of gadgets make it surprisingly stable on sketchy ground, rocks and sand.
Conclusion – Big, Bulky & Successful
The original Hummer was a large gas guzzler that didn't do much besides being big. There was no potency off- or on-road. With a new EV-focused platform, the 2022 GMC Hummer EV excels in ways its predecessor couldn't.
It is still a large beast, but the underpinnings and clever engineering feats diminish the impact. Unlike its combustion counterpart, the Hummer EV is now off-road ready.