The Alpha Wolf Electric Pickup Packs '90s Nostalgia Into An Affordable Package
The $36,000 electric pickup truck comes with a $7,500 federal tax credit for going green.
Alpha Motor Company
Alpha Motor Company is the latest pre-production company to put a bid in the battery-electric pickup truck race with the Wolf. 
Instead of trying to look like the high-tech truck of the future like the Tesla Cybertruck or pack unprecedented modularity like the Canoo electric pickup, the Alpha Wolf appeals with an aesthetic that owners of a 1990s Dodge Ram or Ford F-150 would recognize—deep fenders, knobby tires a straightforward body rendered here in "SF Blue, and even Baja-style roll-bar mounted lights. CNET's Roadshow went so far as tor liken the Wolf's looks to a mashup of a Subaru Brat and a VW Rabbit pickup.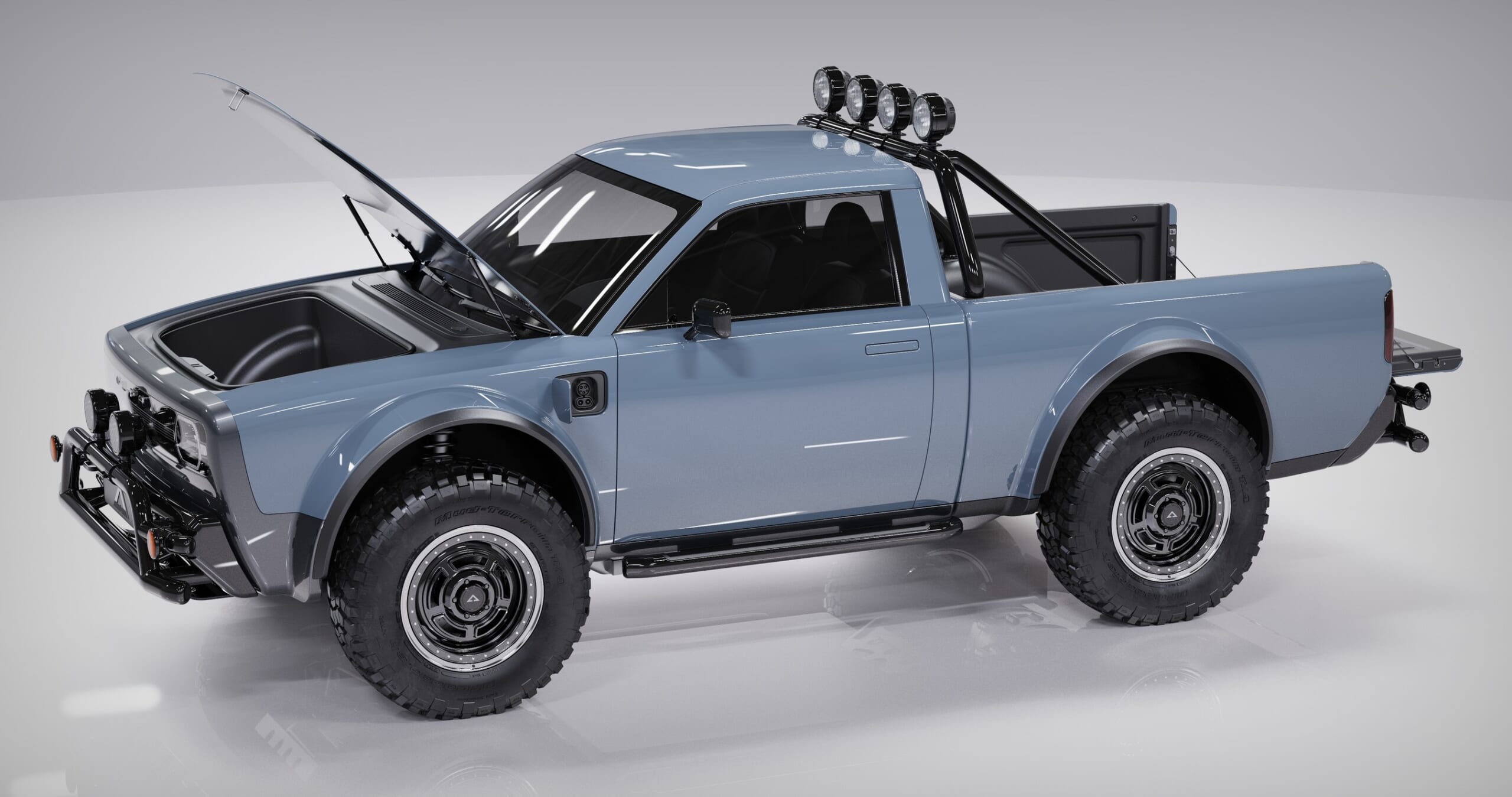 With regard to its competitors, the only other to take a fairly traditional approach to aesthetics is the Rivian R1. The former promises a three-second 60-mph sprint and a 300-plus-mile range, while the Wolf will do the same in 6.2-seconds and go for 275 miles off of a 75-85 kWh lithium-on battery. 
But with a $36,000 starting price, the Wolf also costs about half as much—and that's before a $7,500 Federal tax credit for going green. Other features include dual-motor four-wheel drive (front-wheel drive is an option), a 3,000-pound towing capacity, a 34.5 cubic-foot bed. Inside the spartan regular cab is room for two, a digital speedometer, a digital center display, "ergonomically bolstered" seating, multi-layered center console storage, multiple charging ports for electronic devices, and audio speakers. 
Reservations for the Alpha Wolf are open now, but a production date hasn't been set.