Bugatti Reveals Chiron Super Sport 'Vagues de Lumiere'
This custom Bugatti will cost its ultra-rich buyer at least $4 million. Check out the first look photos here.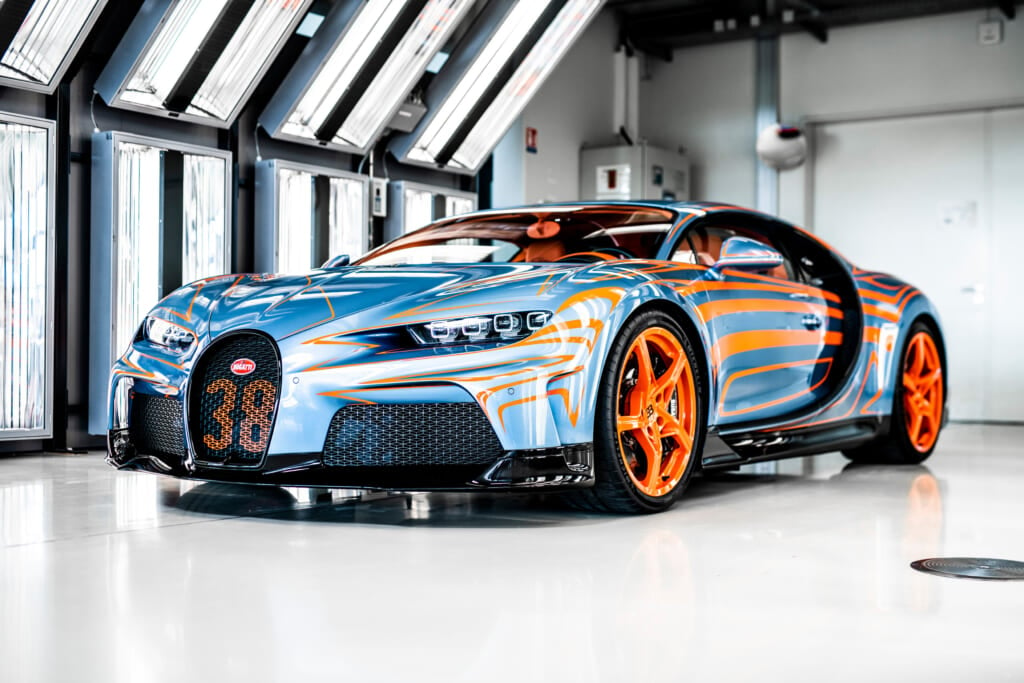 Meet the latest eye-popping supercar from Bugatti's custom Sur Mesure division.
The exotic French automaker has begun making deliveries of the Chiron Super Sport, and among the first is this all-new "Vagues de Lumiere" edition.
Translating to waves of light, the hand-painted blue and orange coat is meant to mimic light rays' reflection off the body's curved carbon fiber panels, from the subtly flared wheel arches to the aerodynamic longtail at the rear.
Bugatti only provided one picture of the interior, but the predominant color is the orange used for the rims and exterior accents, with other black trim and an eye-popping white line that harks to the outside's iconic side C-bar.
The Chiron Super Sport is a slightly more civilized version of the Chiron Super Sport 300+ that saw a 30-unit production after a modified Chiron became the first roadgoing ride to break the 300-mph barrier.
"We tweaked all possible parameters when developing the chassis in order to achieve the best possible setup for immense acceleration as well as the unique Bugatti luxury and comfort experience," Bugatti chassis engineer previously Jachin Schwalbe said in a statement.
"In comparison to the Chiron Pur Sport, which, as a free-revving vehicle with transverse dynamics offers a great deal of downforce up to 350 km/h, the Chiron Super Sport remains very neutral and quiet even above this in the uppermost speed ranges. This vastly increases the feeling of safety." Even at its ridiculous max speed of 273 mph, the car is said to feel stable.
The famous 8.0-liter quad turbocharged W16 engine gets an upgraded cylinder head, oil pump, and turbochargers to achieve 1,577 hp, besting the Chiron and Chiron Sport's output of 1,479 hp.
The seven-speed dual-clutch transmission's top gear was extended by 3.6 percent to accommodate a higher redline of 7,100 rpm, which allows a maximum of 1,180 pound-feet of torque to be accessed through a wider rev range.
Even if you have nearly $4 million to spend on a Chiron Super Sport, you'll have to wait until one pops up on the aftermarket, as all slots have been reserved.