You Can Rent Vin Diesel's Pontiac GTO from xXx For a Day
Sadly, the rocket launchers and flame thrower are disarmed.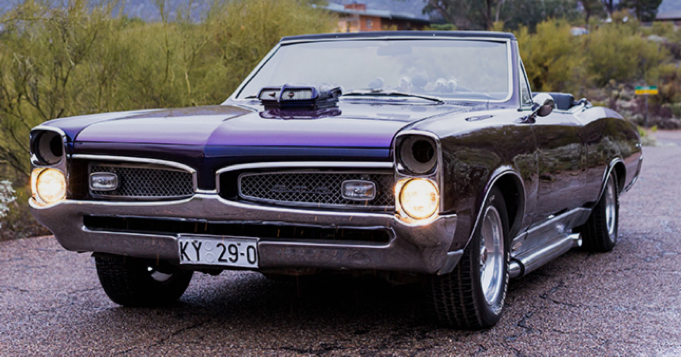 Turo
Vin Diesel's incredible purple '67 Pontiac GTO can be your ride for the day for $999, thanks to the Turo car-rental service. The car appears in the new film, xXx: Return of Xander Cage, as Diesel's weaponized James Bond-style ride, complete with rocket launchers and a flamethrower.
https://www.youtube.com/watch?v=Stb7iIn1CDA
Turo has cut a deal with Paramount pictures to put automotive film stars into customer's hands, and Diesel's customized Goat is the first to hit the company's listing site.
The car will be available in Tuscon, Ariz. January 9-16 before it goes to Los Angeles in time for the film's opening on Jan. 20. The schedule for the Pontiac's visits to other cities later in the year hasn't been set yet.
You may recall that Turo runs an AirbNb-style service that lets people rent their own cars to the public. We found that among the regular cars, there are some pretty interesting ones available too, such as a replica of the Mad Max movie car.
The Paramount deal ensures that there are even cooler cars to come, starting with this GTO. So far, unfortunately, there aren't any subsequent movie cars announced, so stay tuned.
The Pontiac GTO is the definitive class muscle car, introducing the big-block-V8-in-an-intermediate-body formula in 1964, and Motor Trend tested a '67 that accelerated to 60 mph in 5.2 seconds and through the quarter-mile in 14.1 seconds.