Final Bugatti Chiron Revealed: The One-Off 'Profilée' Hypercar
The one-of-a-kind Chiron is set to fetch millions at a Sotheby's auction in February.
The Bugatti Chiron and the French marque's legendary quad-turbo W16 engine are speeding into history with one final release—the Chiron Profilée.
The Molsheim, France-based marque is teaming up with RM Sotheby's to sell the one-off hypercar. According to the auction house, the Chiron Profilée is a response to customers' requests for a "less radical" version of the performance-oriented Chiron Pur Sport, which featured a six-foot-plus long rear wing, shorter gear ratios, and boosted lateral acceleration.
The mission was to craft a car that channeled the GT-style plushness of the original Chiron while maintaining the ultimate performance of the Pur Sport. But Bugatti's engineers didn't maintain the Pur Sport's performance; they exceeded it.
With a redline increased to 6,900 RPM and a revised, short-ratio seven-speed dual-clutch transmission, the Profilée is the fastest accelerating Chiron yet—62 mph comes in 2.3 seconds, 124 mph in 5.5 seconds and 186 mph in 12.4 seconds.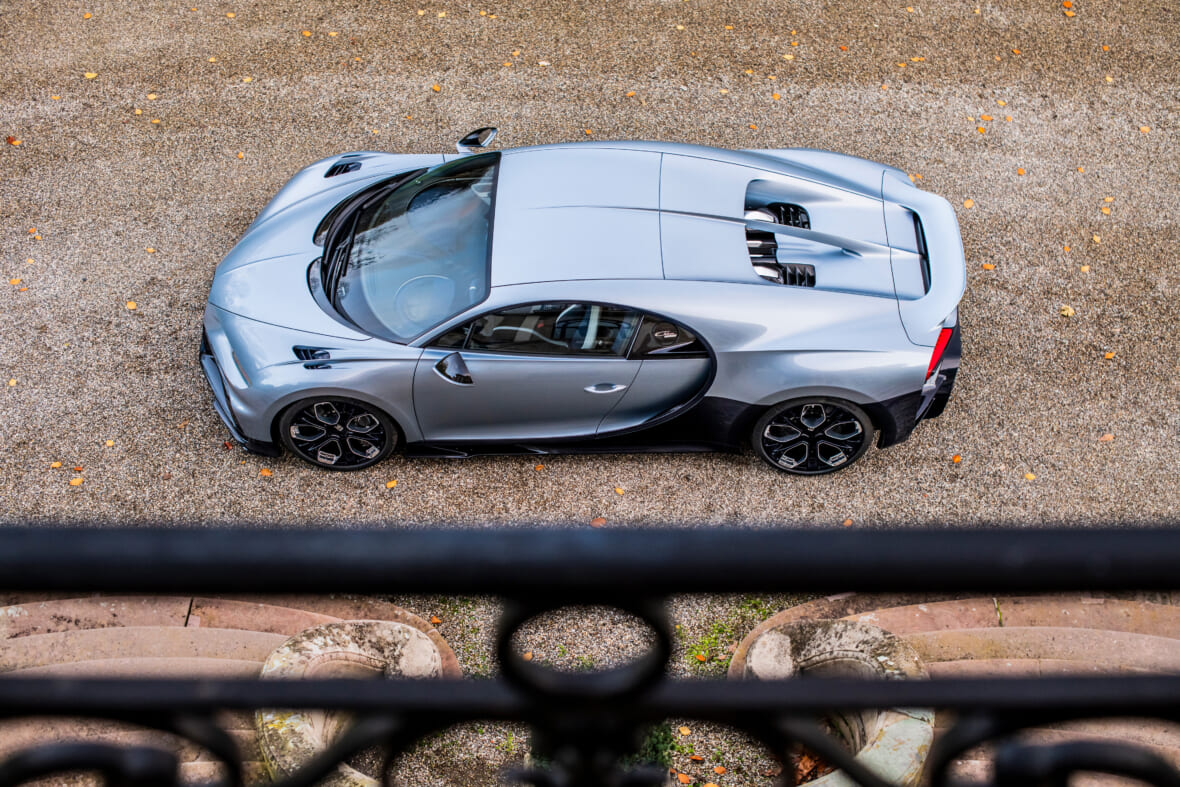 It also boasts features never-before-seen on previous Chiron examples, beginning with the model-exclusive "Argent Atlantique" main paint coat, which is underscored by the lower body's Blea Royal Carbon and polished aluminum accents.
The tail features a millimeter-perfect hollow section to allow hot air to easily escape, while the front is scored with wider air inlets for the same reason. The horseshoe grille is also enlarged, and the altered front splitter helps maximize downforce.
Another Chiron first is found inside, where a leather finish utilizing 2,665 hand-woven strips covers the center console, dashboard, door panels and rear wall inlay. The steering wheel is color-matched to the Deep Blue comfort seats, and the Chiron instrument cluster is set in black anodized aluminum housing.
There is no pre-sale estimate for the Bugatti Chiron Profilée, but expect it to sell for well north of the production Pur Sport's $3.6 million MSRP at auction on February 1.