Lamborghini Bids Farewell To Naturally Aspirated V-12 With Two One-Off Supercars
Lambo unveiled the one-of-a-kind Invencible and Auténtica and announced sales milestones in California and Florida.
On the heels of a triumphant 2022, Lamborghini is gearing up for another big year in America.
The Italian automaker reports that the U.S. remained the single largest market globally for Raging Bull purchases in 2022, with a total of 2,721 vehicles delivered last year, up 10 percent from 2021.
Seeing as California and Florida took the largest shares U.S. Lambo sales at 25 percent and 19 percent, the automaker celebrated with two grand re-openings of its Westlake, Los Angeles and Broward County, Florida dealerships.
The news comes weeks before Lamborghini unveils is expected to unveil its most significant model since the unveiling of the top-selling Urus super-SUV: a new hybrid flagship to replace the Aventador.
This upcoming partially electric supe will not only mark the end of the Aventador's decade-plus run as the leader of Lambo's stable, but the last of its naturally aspirated V12-powered cars. The new hybrid will feature a 12-cylinder supplemented with electric power.
Lamborghini has made sure the world's aware of the Aventador's numbered days through a oxymoronic slew of "final" editions, beginning with an "Ultimae" edition unveiled in 2021.
Unfortunately, 15 Ultimate Aventados sank with the Felicity Ace merchant ship in early 2022 after planned production had concluded, so Lamborghini unveiled the "actual" final Aventador in late 2022.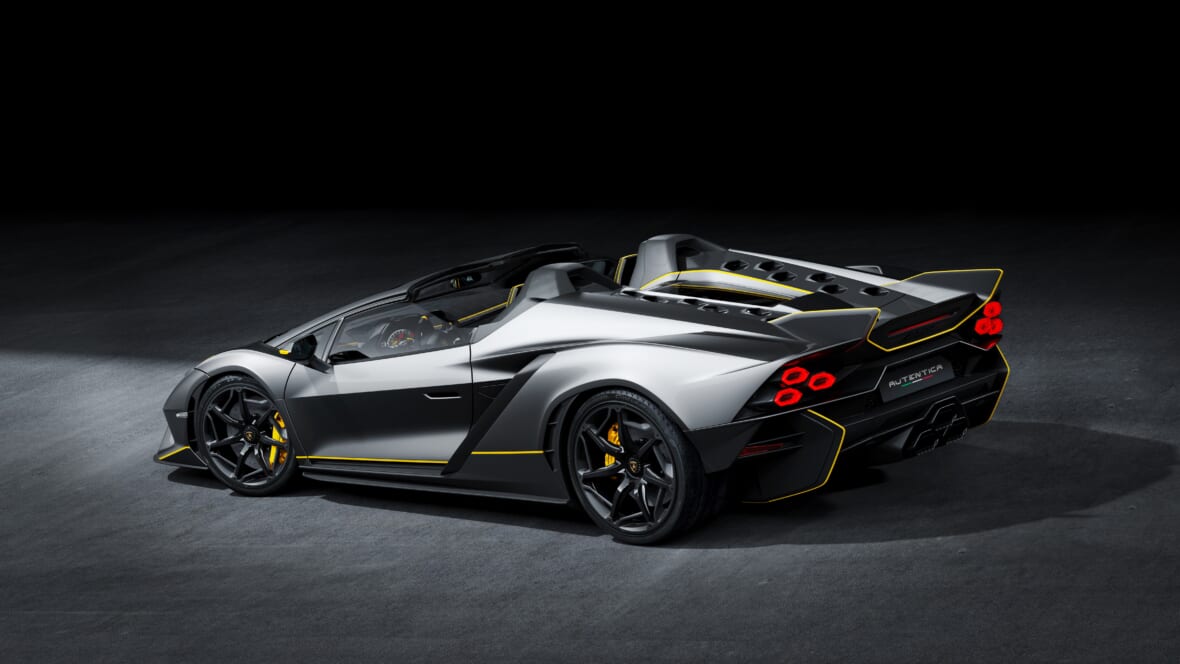 Psych! The true final Aventadors, which are really Aventador-based one-offs, were just revealed.
Named Invencible and Auténtica, they pay tribute to Lamborghini's singular, multimillion-dollar machines of the last decade, with rear wings and air intakes reminiscent of the Setso Elemento's, the streamlined shape of the Reventon, and the advanced aerodynamics of the Veneno.
Both new cars share the same carbon fiber monocoque from the Aventador, produced in Sant'Agata Bolognese, along with motorsport-bred full carbon bodywork. The hoods reprise those of the Essenza SCV12, while Lambo's hexagon motif appears throughout the cars in the light assemblies and the triple-pipe exhausts tipped with Inconel, a high-performance steel derived from the aerospace industry.
Aside from the body styles, the color schemes are the biggest points of deviation. The Invencible is rendered predominantly in red, with two prominent hexagonal tricolors nodding to the Italian flag on the scissor doors. The interior shares a similar theme.
Meanwhile, the Auténtica roadster features bodywork in Grigio Titans with details in Matt Black and a Giallo Auge livery, and the open-air interior wears Giallo Taurus, with contrasting Nero Ade leather upholstery and two-tone Nero Cosmus and Grigio Octans Alcantara.
We'll see what hybrid speed machine succeeds this last two Aventadors in a few weeks' time.