Lotus Unveils All-Electric, 600 HP 'Hyper SUV'
The Lotus Eletre may look a lot like the Lamborghini Urus, but it's even quicker and absolutely emissions-free.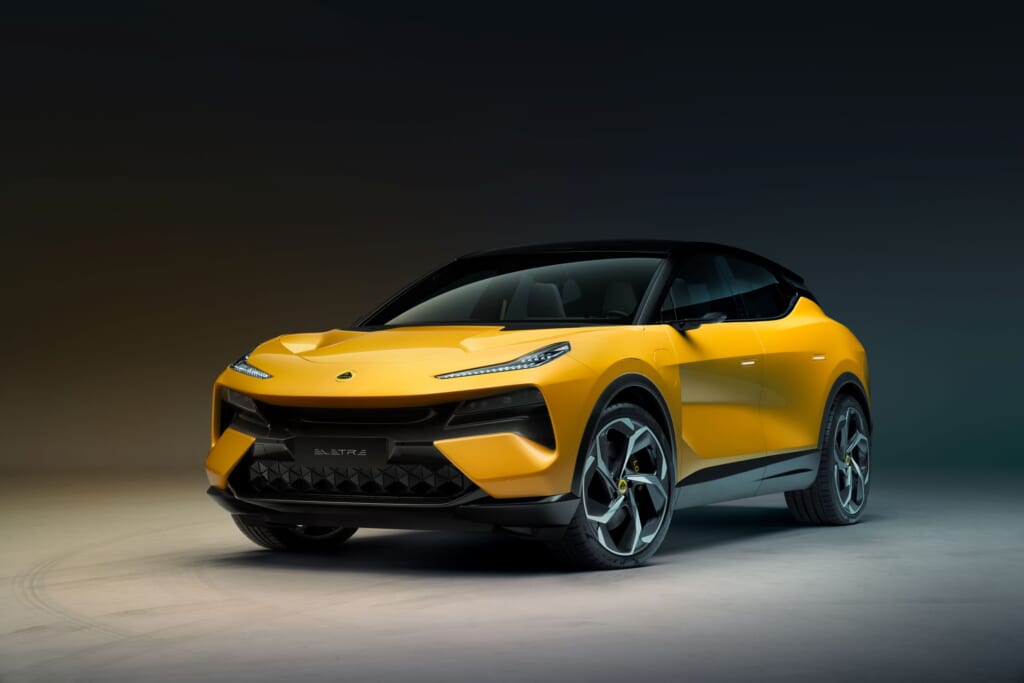 Lotus is the first major marque to bring pure electric propulsion to the luxury SUV space spearheaded by the likes of Lamborghini, Porsche and Bentley.
The all-new Eletre crossover is a major departure from the lightweight sports cars, like the barebones Elise or more advanced Evora, that standout on the British marque's timeline.
But the Lotus Eletre "hyper-SUV" (as its billed) was conceived after Chinese automotive giant Geely Holding Group secured a majority stake in Lotus in 2017.
However, Car and Driver reports that the that the Eletre's architecture is made just for Lotus, meaning it's not related to existing Volvo or Polestar EVs under the Geely Group umbrella.
Angular body panels, aggressive windshield raking and the yellow presentation color call the Lamborghini Urus to mind. And at 200.9 inches long, 78.7 inches wide, 64.2 inches tall and with a 118.9-inch wheel, C&D adds that its dimensions are nearly identical.
Performance specs haven't been announced, but at least 600 horsepower from a 100-kWh battery will go to all-four wheels.
A claimed sub-three-second 60-mph time is quicker than than the Urus, Bentayga, and practically ever other production SUV except for the Tesla Model X Plaid. It's no slouch maxed out at 161 mph, either.
Targeted range is also impressive at 315 miles, with two-thirds of its battery replenished in 20 minutes using a 350-kW fast charger.
The Eletre also boasts active aero components like a closing grille shutter and three-position rear spoiler.
Those striking, 23-inch sculpted rims are upgrades, so expect the 22-inch standard rims to be less dramatic. Tesla-like autonomy will come courtesy of lidar sensors embedded in the roof and above the wheel arches.
The interior was designed to Chinese tastes first, as the Eletre will be built in a new Wuhan factory. It's clad in a wool-blend fabric, which admittedly isn't as upscale a treatment as you'd find in a Lambo or Porsche.
A blade of light stretching across the dash changes color as part of the interface, signaling occurrences such as incoming calls, charge status or temperature changes. Below that is what Lotus calls a "ribbon of technology," a 30mm high display on both driver's and passenger' sides that can be configured to show vehicle information or infotainment selections.
Between the front occupants is a 15.1-inch touchscreen that can be used to access 95 percent of vehicle systems in three or fewer screen inputs and folds flat when not in use. An 800-watt, 15-speaker surround sound audio system will be standard, a 23-speaker, 1500-watt system optional, and both funky four- or traditional five-seat layouts are available.
An unconfirmed price should sit at around $120,000 when the Lotus Eletre arrives in the U.S. in 2024.