Mercedes-AMG EQS: First Drive Review
Mercedes' performance-minded AMG division goes electric with its first EV AND most powerful production model yet.
What Mercedes-AMG have created with their EQS — performance arm AMG's very first foray into an all-electric vehicle — is truly next level, in nearly every capacity.
First, performance: with a potent electric motor on each axle, the EQS bristles with 649-horses and 700 pound-feet of torque — making it the most powerful production car AMG has ever made.
Toss it into launch control and that output briefly surges to 751 horses and 752 pound-feet of torque, allowing the spacious executive saloon to catapult from 0 to 60 mph in a head-snapping 3.4 seconds.
And the needle keeps going all the way to 155-mph, an unusually high apex for a car that doesn't chug gasoline to defeat wind resistance.
But performance doesn't end with acceleration and speed — handling is key. While you won't mistake the EQS for a sports car given its size, weight and lugubrious sedan setup, its AMG-engineered adaptive air suspension with electric damping firms the ride up beautifully on Sport/Sport+ (from the 5 available Drive Modes).
Paired with standard rear-axle steering this AMG Ride Control allows the EQS to carve up mountain roads with more agility than most EVs — something we experienced firsthand on the scribble-like Palms to Pines Highway above Palm Springs.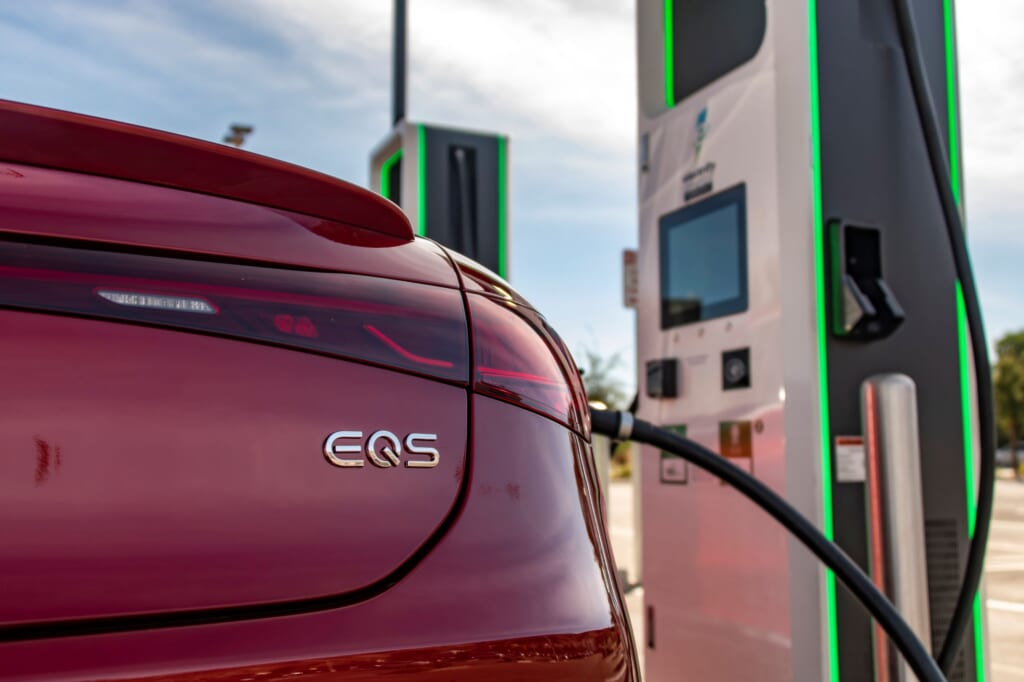 Batteries are heavy; the fact that the AMG EQS can unspool loads of torque via it 107.8-kWh battery pack while still keeping the car level on sharp corners is a huge achievement in engineering. And the optional carbon-ceramic brakes (with 17.3-inch front rotors) scrub speed like detergent.
Next: Luxury. While most EV automakers have followed Tesla's aesthetic mandate that all electric vehicles must remain minimal and stark — especially when concerning cabin design — Mercedes-AMG have opted for a decidedly different approach. Not shocking, given the Tristar's burnish as one of the finest luxury brands across any and all industries.
With their AMG EQS they have built easily the most luxurious, well-appointed and tech-studded EV cabin we've ever slipped into. The future starts with what they call the Hyperscreen: an eye-glazing 55" display that covers nearly the entire width of the cabin, with a bright AR-infused HUD that magically creates blue arrows on the windscreen to direct your every turn.
Every material is luxurious, from the supple Napa leather to the polished carbon fiber inlays to the metal switchgear, Burmester 3D soundsystem grilles and door handles. An expansive panoramic sunroof overhead creates a great sense of space, while the beautifully stitched front seats offer cooling, heating and even massages to supplement your zero-emission commute.
Another innovative sensory touch is the soundscape the EQS elicits when throttling, rising in pitch with power output. Working in concert with the Hyperscreen — which morphs from a calming icy blue to a fiery red in either Sports mode — the entire cabin takes on a holistic sci-fi vibe.
Combining the rising Tron Light Cycle soundtrack with the increasingly red glowing screen with the gut-punch thrust of the electric motors creates a sensory experience more on par with piloting an X-Wing through hyperspace than anything you've likely experienced on planet Earth.
Recently Merc made a vow that its fleet would be all-electric by 2030, and the EQS is thus far the prestigious German automaker's pinnacle achievement in this category.
When one considers this is only AMG's first EV ever, one can only imagine of where they will go from here… although a performance-focused sportscar (with gullwings, perhaps?) certainly makes the heart fibrillate with expectation.