Mercedes Previews Future Of Electric Supercars With Vision AMG Concept
The lightning-struck Silver Arrow could be the next Mercedes-AMG GT 43.
The Mercedes Vision EQXX made waves when the road-ready concept was unveiled earlier this year featuring an industry-best 620 miles of range. But with just a single 200-hp electric motor, there's much performance to be desired.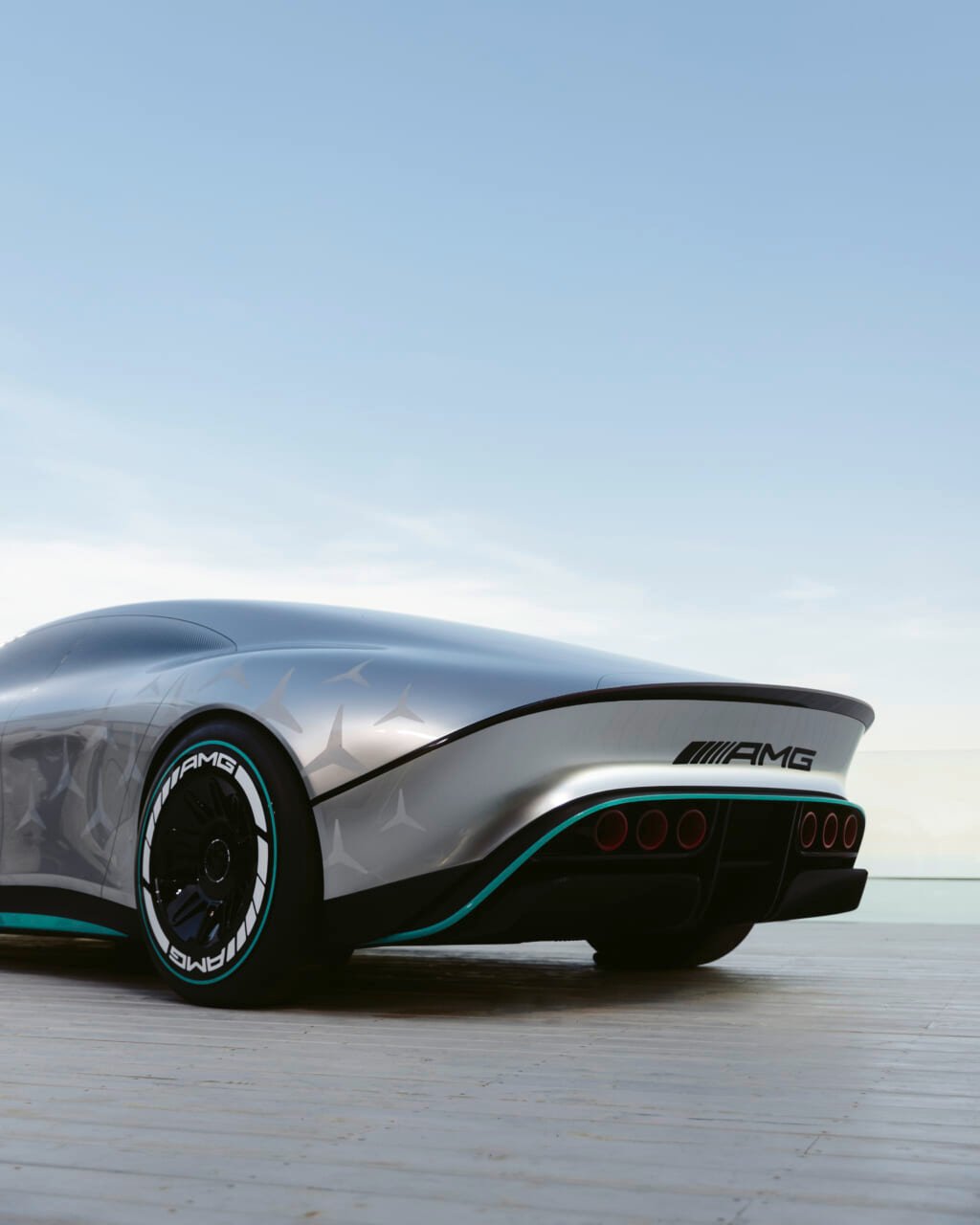 Fortunately, Merc's performance AMG division has also been developing an all-electric concept dubbed the Vision AMG. The overall shape formed by the greenhouse, tapered roof and teardrop-esque rear is similar to the EQXX's, but there are some sportier differences. Fewer joins and shut lines reduce unwanted interruption of airflow, while the front and rear overhangs have been shortened and lengthened respectively to optimize aerodynamics.
The rear's more aggressively cut teardrop edge is created by an active spoiler, and both the front and rear headlights hark to the Mercedes Star to varying degrees. Fans of the Mercedes-AMG Petronas F1 team will recognize the silver paintwork, large-format star patter adorning the shoulders, and the diffusers in Petronas colors.
Car and Driver points out that the nose features a panel similar to the AMG Panamericana grille. There's no radiator or engine to cool, so this component was included entirely for looks and uses LED light strips to mimic vertical grates. The taillights are comprised of two sets of three cylindrical tubes, kind of like fighter jets' afterburners.
"With its contrasting modern surfacing and radical proportions, this car showcases the next design step, building on the VISION EQXX and moving further towards performance luxury," said Mercedes-Benz chief design officer Gorden Wagener. "The seamless flow of beautifully formed surfaces and the monolithic sculpture complete the powerful aesthetic of the Vision AMG."
Mercedes didn't provide any stats on the powertrain, but it's been designed "completely from scratch." It will be rooted in a so-called AMG.EA platform with feature a dedicated high-performance, high-voltage battery to power performance axial flus motors.
If we see a production version of the Mercedes Vision AMG, it won't be until after the performance marque beings its all-electric transition in 2025.