The 2,011-HP Lotus Evija Fittipaldi Is World's Most Powerful Production Car
Named for Formula 1 champ Emerson Fittipaldi, this black-and-gold EV smokes the competition.
Lotus is kicking off production of the Evija, the world's most powerful street-legal car, with a fittingly racy special edition celebrating the brand's F1 legacy.
The one-of-eight Evija Fittipaldi is named for Emerson Fittipaldi, the Brazilian Formula One driver who helped establish Team Lotus as a legend of motorsport by securing the team's fifth of six F1 championships during its most dominant period in the 1960s and 1970s.
Fittipaldi became the youngest driver to win an F1 title in 1972 behind the wheel of the iconic black-and-gold Lotus Type 72 race car, the aesthetics of which heavily influenced those of the Evija Fittipaldi.
Everything is hand-painted from the black base coat to the gold accents, which include a carbon and gold Lotus nose logo, decals celebrating the Type 72's race victories on the active rear wing, and Fittipaldi's No. 8 badge on the B-Pillar—the same designation he sported when he drove Lotus to a home Grand Prix win in 1972.
Black and gold "Type 72" wheels feature anodized center lock surrounds rendered red on the right side of the car and green on the left, with more black and gold applied on the brake calipers.
The two-tone scheme continues inside. Black leather is accented with gold stitching, particularly blingy gold pedals, gold air vent surrounds, and a gold-finished center rotary dial, which is made from recycled Type 72 aluminum.
A now 75-year-old Fittipaldi saw his namesake electric supercar unveiled recently at Lotus HQ in Hethel, UK, where he remarked, "Having the opportunity to drive both the Evija Fittipaldi and my championship-winning Type 72 Formula 1 car on the test track at Hethel has been an incredible experience."
As Canada's Driving notes, the four-motor, four-wheel-drive Lotus Evija's output has increased slightly since its 2019 announcement.
While initially billed with 1,973 horsepower, the Aspark Owl briefly stole the superlative with 1,984 horsepower, leading Lotus to endow the Evija Fittipaldi with an almost unfathomable 2,011 horsepower and 1,265 pound-feet of torque.
Zero to 60 mph happens in under three seconds, followed by 186 mph in under nine seconds and an electronically limited top speed of 217 mph. Confident in its mind-blowing performance, Lotus stuck a second former F1 champ—Britain's Jenson Button—behind the wheel.
"It sounds like a jet engine! You think of an EV as quiet but it's not. The torque is astronomical. It's amazing, it puts a big smile on your face. It feels like a spaceship, the drivability and direction in the steering certainly lets you know you are driving a Lotus; I am amazed by the agility of it. It is a Lotus of the future and I can't wait to drive my own Evija."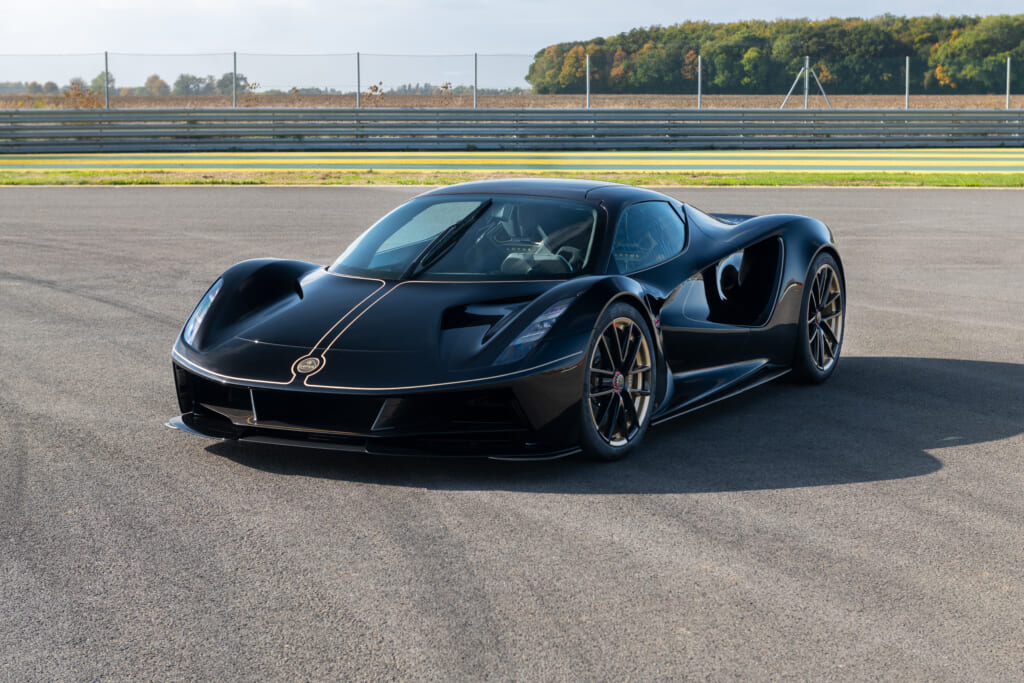 All eight Lotus Evija Fittipaldis have been spoken for, with deliveries set to commence in 2023.