'World's First Electric Batmobile' Is Near-Perfect Replica of Batman's 'Dark Knight' Ride
No Batcave is complete without it.
Robert Pattinson's The Batman may drive a muscly, Dodge Challenger-esque Batmobile, but artist Nguyen Dac Chung is taking the Caped Crusader's fortified ride into an electrified realm.
Chung heads Vietnam's Marco Studios, which specializes in recreating superhero props and costumes. And his proudest piece is an all-electric version of the tank-like "Tumbler" Batmobile piloted by Christian Bale in director Christopher Nolan's Dark Knight trilogy.
According to Robb Report, the "world's first electric Batmobile" (as its billed) weighs just 1,322 pounds thanks to a build utilizing plastics, carbon fiber and composites instead of heavy metal.
The choice in lightweight materials is smart, as the movie car's roaring 5.7-liter V8 and its 500 horses has been replaced by a pair of batteries that produce considerably less power. No specs were available except for an underwhelming top speed of 65 mph—at least it looks quick off the line in the video above.
But what's lost in performance is made up for by attention to all the badass detail. It rides on two 13-inch front wheels wrapped in 24-inch tires and four 18-inch rears clad in fat 33-inch tread—nearly identical to those seen on-screen. The Tumbler's layered gunmetal body armor has also been meticulously recreated, and there's even a faux afterburner.
Automatic sliding doors reveal a cockpit equipped with a four-camera surveillance system that creates a 360-degree view of surroundings, plus room for a passenger.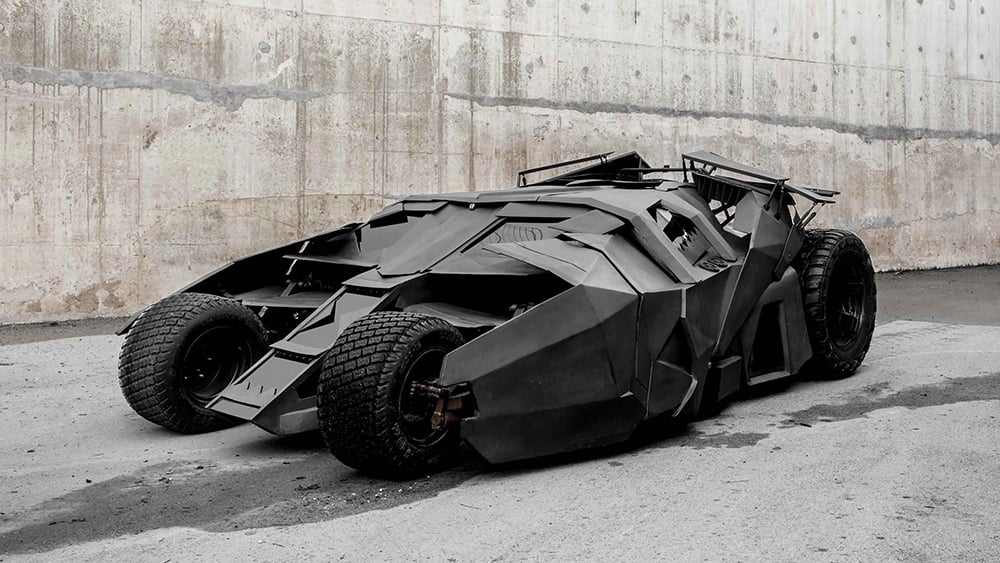 Marco Studios' Batmobile is currently on display at the Van Daryl automotive gallery in Ho Chi Minh City. If you want to buy it for your Batcave, reach out here.