Meet The Hypercars That Battled For Racing Supremacy At Le Mans' 100th Anniversary
Ferrari scored its first Le Mans victory in 58 years as Alessandro Pier Guidi, James Calado and Antonio Giovinazzi beat Toyota with the 499P hypercar.
The 24 Hours of Le Mans, arguably the most famous race in all of motorsports, celebrated its 100th Anniversary over the weekend.
In that century the endurance crucible forged epic rivalries, created legends and defined destinies for nearly every marque worth mentioning. Eras like the famed Ford vs. Ferrari battles of the late 1960s and the Porsche vs. Audi vs. Toyota world wars of the 2010s are almost mythic in racing lore, beloved by fans worldwide.
And while the race—and endurance sports car racing in general—has suffered in the past years as major manufacturers fled the series, things are about to turn around in a major way. Call it coincidence or destiny, but just as the 24 Hours of Le Mans celebrates its centenary, the fields of the World Endurance Championship (WEC) and the International Motor Sports Association (IMSA) are about to experience an explosion arguably unlike any we've seen since the 1980s.
IMSA and its European counterpart, FIA, have agreed on terms that will allow cars that qualify for one series to cross the pond—so cars in the WEC can also race in IMSA, and vice versa. Perhaps most importantly, they can all race at Le Mans, to the delight of rabid race fans across the planet.
The reason for this rush is fairly simple: regulators have implemented extensive rule changes designed to lower the bar of entry for both racing series, making them vastly more affordable and their tech more transferable to the street.
On Sunday, June 11, Ferrari scored its first Le Mans 24 Hours victory in 58 years as Alessandro Pier Guidi, James Calado and Antonio Giovinazzi beat Toyota in the centenary edition of the race with Ferrari's new 499P Le Mans Hypercar.
Pier Guidi passed the checkered flag one minute and 21 seconds ahead of the #8 Toyota GR010 HYBRID of Sebastien Buemi, Brendon Hartley and Ryo Hirakawa. Clinching third place was the #2 Cadillac V-Series.R shared by Alex Lynn, Earl Bamber and Richard Westbrook, a lap behind the winning Ferrari.
Here's a closer look at the hypercars that competed in the 100th Anniversary of Le Mans.
LMH vs LMDh
WEC has now ceded their erstwhile apex Le Mans Prototype 1 (LMP1) cars into the Le Mans Hypercar (LMH) and the new Le Mans Daytona hybrid (LMDh) classes. LMH teams will now design and build the entire car from a white sheet—engine, chassis, body, etc., from nose to tail.
This means OEMs can take their own street-legal hypercars and transform them into LMH competitors (as Aston Martin is considering with their Valkyrie production hypercar).
They can be all-wheel-drive, but are capped at 671 bhp (662 hp). LMH cars will reportedly cost 80% less than outgoing LMP1 entries, explaining why so many manufacturers are willing to return to competition.
Meanwhile LMDh cars must use a preset hybrid system and gearbox, and can only select between four different chassis options. Power is also limited to 662 hp, and must be rear-wheel-drive only. LMDh teams are additionally capped with a €1 million (currently about $1 million) budget. While LMH already launched in 2021, the LMDh class launches in 2023.
Together both classes dramatically lower costs and therefore bar of entry, welcoming back teams that had left the sport and inviting new players to the grid. After a stretch where Toyota was the only major manufacturer left competing in WEC, 2023 sees a flood of new marques stepping into the ring including Porsche, Ferrari, Cadillac and Peugeot, with Alpine and Lamborghini set to join the fray in 2024.
Meanwhile in America, BMW and Acura join a crowded IMSA field that also includes the above entries from Porsche and Cadillac. Here we highlight three of the most exciting new competitors.
Ferrari 499P
"We decided to return to the elite class of the WEC exactly 50 years after our last official participation, because the new regulations allow us to take on a sustainable challenge from an economic point of view, and with an interesting transfer of technology to series production," explains Antonello Coletta, Head of Ferrari Attivita Sportive GT division.
This explains why the Prancing Horse has opted to compete in the higher LMH class versus LMDh, as it's critical for Ferrari's 'from track to showroom' strategy that they're allowed to build the race car themselves from the ground up—and then transfer the race tech to the streets.
For instance the engine from the 499P is based on the V6 from Ferrari's 296 GTB road car (and also 296 GT3 GT racer).
Coletta sees the track as "the ideal terrain for experimenting with cutting-edge technological solutions to be incorporated into Maranello-manufactured road cars…. This new regulatory formula, in my opinion, will be able to take the WEC back to its halcyon days, because it will reignite legendary challenges between the great car manufacturers."
BMW M Hybrid V8
So far BMW have only committed to race their M Hybrid V8 in IMSA, under the LMDh class (or 'GTP' class in IMSA speak). One of the hottest-looking vehicles on the grid, the M Hybrid V8 incorporates many BMW design cues, so there's no mistaking its place among the herd.
"We are proud that, parallel to the 50th birthday of BMW M, we are returning to the big motorsport stage with the BMW M Hybrid V8," Franciscus van Meel, BMW M's newly-minted CEO, tells us.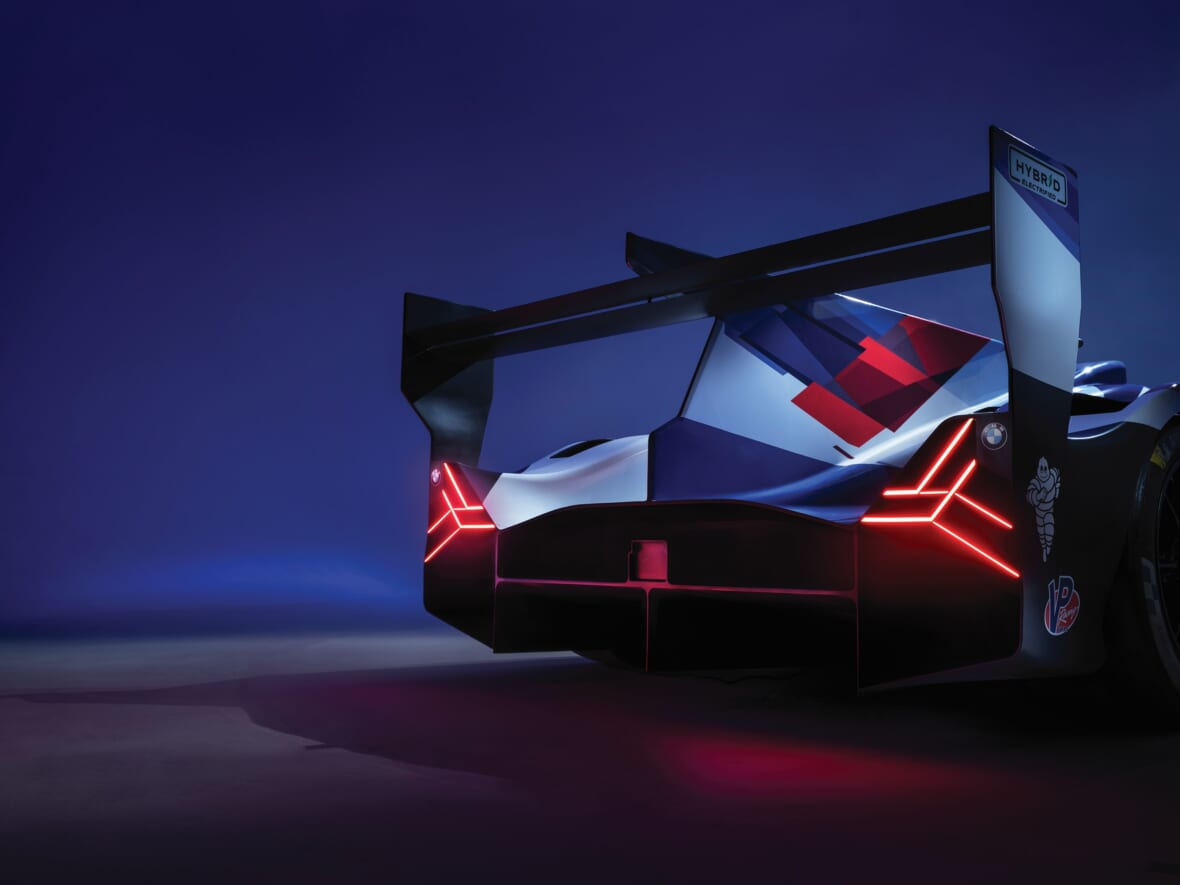 "We are delighted that this adventure begins in North America, the most important international market for BMW M. After all, the BMW M Hybrid V8 is more than just a race car—it is paving the way for an electric future for BMW M by emphatically demonstrating how dynamic and emotive electrified M Power can be."
According to van Meel, the Hybrid V8 represents BMW M's turning point towards electrification, providing an idealplatform "to show how exciting electrified BMW M cars will be in the future."
Porsche 963
Porsche is returning to the WEC crucible it last won in 2017 with its 919 Hybrid. So far only the gorgeous Cadillac LMDh-V.R has joined the Porsche 963 in committing to racing in both WEC and IMSA, and was slated to make its debut in January's 24 Hours of Daytona. Their LMDh class 963 is anchored by an updated version of the 4.6-liter twin-turbo V8 that powered the production hypercar 918 Spyder.
"Endurance racing is in our blood," stresses Thomas Laudenbach, Vice President of Porsche Motorsport. He notes that even though Porsche left the apex LMP1 racing series, they've continued successfully competing in the WEC's GTE Pro class with their 911 RSR. Regardless, they wanted more.
"It's safe to say the desire to return to the top class was always there," continues Laudenbach. "With LMDh we are able to compete for overall wins in both the WEC and IMSA with a car that also keeps costs under control… At the same time there is still sufficient freedom for us to prove our capabilities and push technologies forward.
"We can't wait to start racing and are very excited about entering a new era with great rivals—some of them with a lot of experience in endurance racing. [It] goes without saying that a crowded field makes for more interesting racing, and more exciting spectating. We love competition."