Watch The Greatest UFC Trash-Talking Moments From Nick and Nate Diaz Inside the Octagon
Nobody talks smack quite like these badass brothers.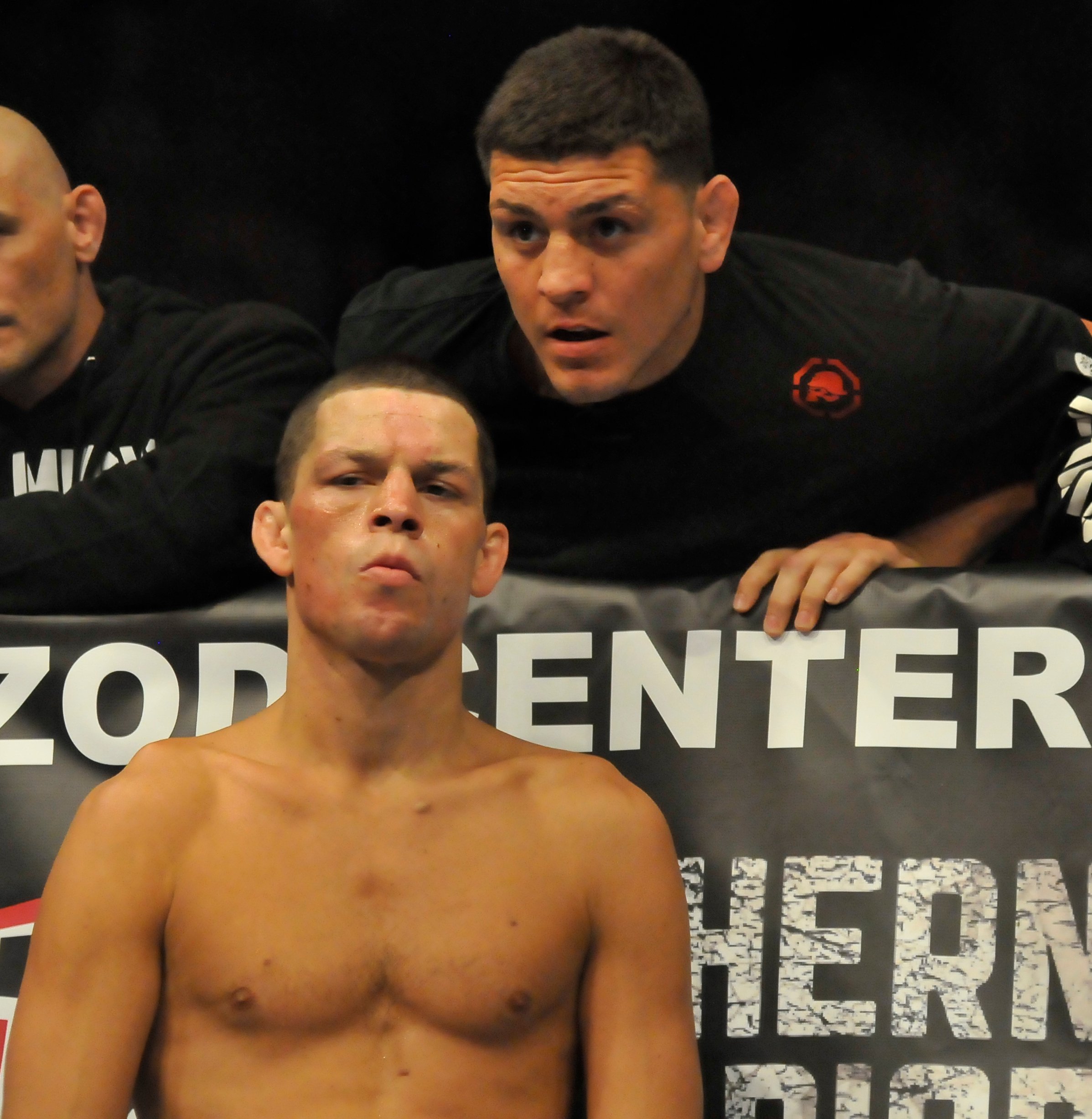 There isn't a badder pair of MMA brothers on the planet than Nick and Nate Diaz. 
Straight outta Stockton, California, Nick and Nate both hold impressive records (26-10 and 20-11, respectively) in the UFC's lightweight and welterweight divisions. 
The Brazilian jiu-jitsu black belts are known as much for being absolute animals inside the Octagon as they are for their undying love of weed, which famously landed Nick an 18-month ban and $165,000 fine in 2015.
But it's their relentless shit-talking in the cage that makes them arguably more entertaining than any other brawler out there. JFcombat has helpfully created a video of their all-time greatest shit-talking moments. 
https://www.youtube.com/watch?v=YPxYDCzkYiU
Whether they're laughing in the face of their opponent after throwing one of their trademark Stockton slaps or flipping off the opposing corner, they're created an art out of mind-fucking the fighter across from them. 
We'd be psyched to see Nate taunt Conor McGregor for a third time after the Mayweather silliness is finished, but until then, relive the Diaz brothers' best trash talk below: 
Nate Diaz vs. Joe Stevenson
The Ultimate Fighter finale – June 20, 2009 
" tml-embed-width="480″ tml-embed-height="270″ tml-render-layout="inline
" tml-embed-width="480″ tml-embed-height="270″ tml-render-layout="inline
Nate Diaz vs Conor McGregor II 
UFC 202 – August 20, 2016 
" tml-embed-width="480″ tml-embed-height="270″ tml-render-layout="inline
" tml-embed-width="480″ tml-embed-height="270″ tml-render-layout="inline
Nick Diaz vs. Robbie Lawler 
UFC 47 – April 2, 2004
" tml-embed-width="480″ tml-embed-height="270″ tml-render-layout="inline
" tml-embed-width="480″ tml-embed-height="270″ tml-render-layout="inline
Nick Diaz vs. Carlos Condit UFC 143 – February 4, 2012
" tml-embed-width="480″ tml-embed-height="270″ tml-render-layout="inline
" tml-embed-width="480″ tml-embed-height="270″ tml-render-layout="inline