BluBlocker Is Making Solid Gold Sunglasses That Cost $20,000
An exclusive first look at the sporty brand's first foray into ultra-luxe shades.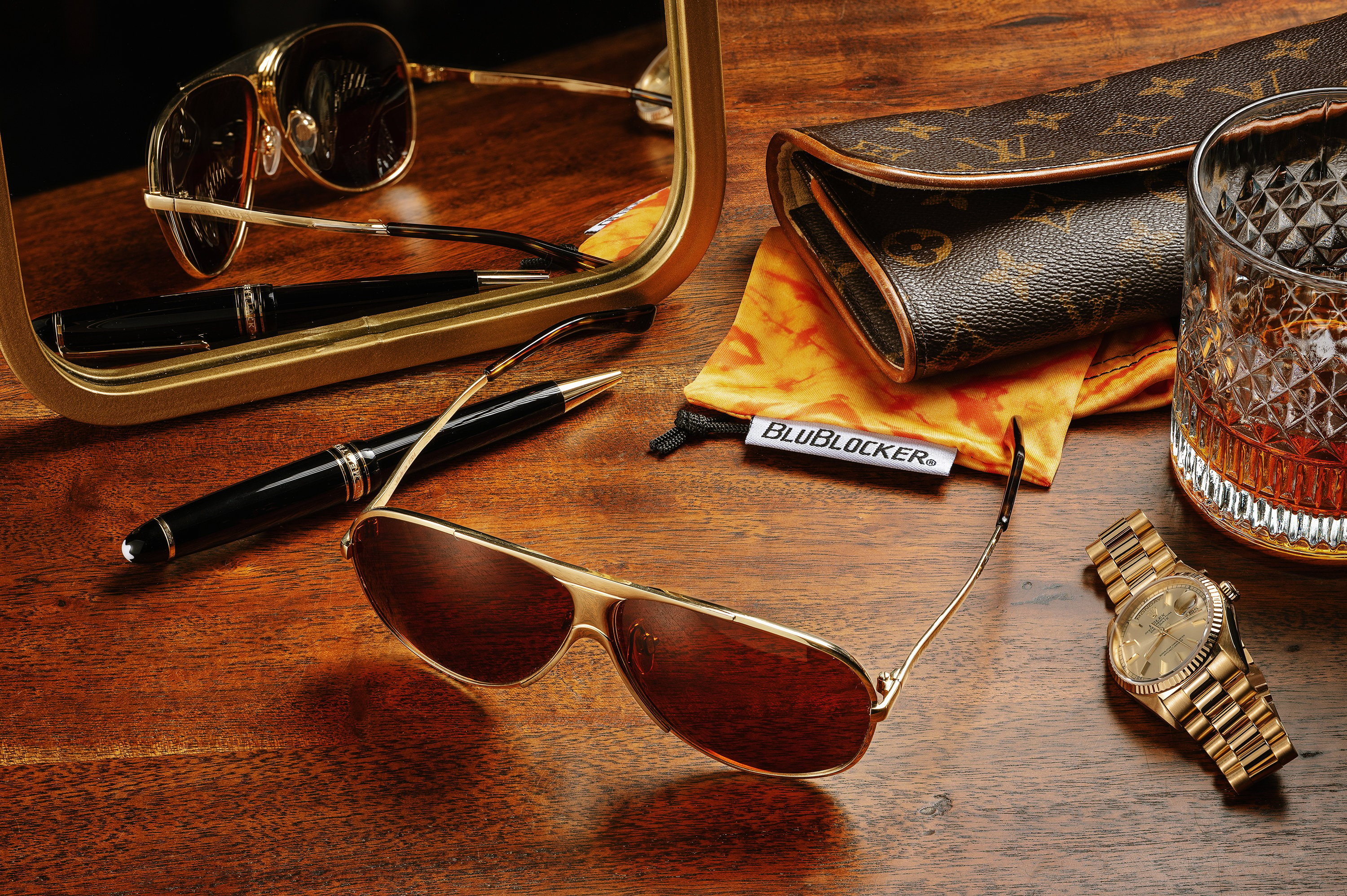 When it comes to luxury sunglasses, we're living in a veritable golden age. Persol just launched a 24-karat gold-plated version of its 714 Steve McQueen shades, and Todd Snyder's latest collab with Randolph showcases snazzy gold aviators. Now BluBlocker is upping the gilded ante by offering solid gold sunglasses priced at a lens-fogging $20,000.
The classic budget brand is an unlikely entrant into the high-end eyewear market. BluBlockers start at just $25, and the company is best known for its '90s-era infomercials and making sunglasses favored by eccentric movie characters. Matt Dillon's sketchy private eye Pat Healy in There's Something About Mary and Zach Galifianakis' inimitable Alan Garner in The Hangover both wear BluBlockers, which get their signature amber tint from blue light-blocking lenses.
But those iconic Hangover aviators are a far cry from BluBlocker's new Gold Coast sunglasses, seen here in an exclusive first look. The solid gold frame was handmade in Dallas by a master goldsmith from about two ounces of 18-karat gold. Other luxe touches include custom-molded gold wire on the nose pad, white gold under the Demi Tortoise acetate temple tips, a fine jewelry-style closure where the temples connect to the frame, and Carl Zeiss lenses that are the highest-quality BluBlocker has ever used.
The opulent aviators are a glammed-up descendent of the brand's first sunglasses, the GoldenBlu, a gold-toned model that first launched in 1986. This was around the same time that BluBlocker hired Chicago Bears quarterback Jim McMahon and New York Mets first baseman Keith Hernandez as pitchmen to cultivate the brand's sporty and accessible identity.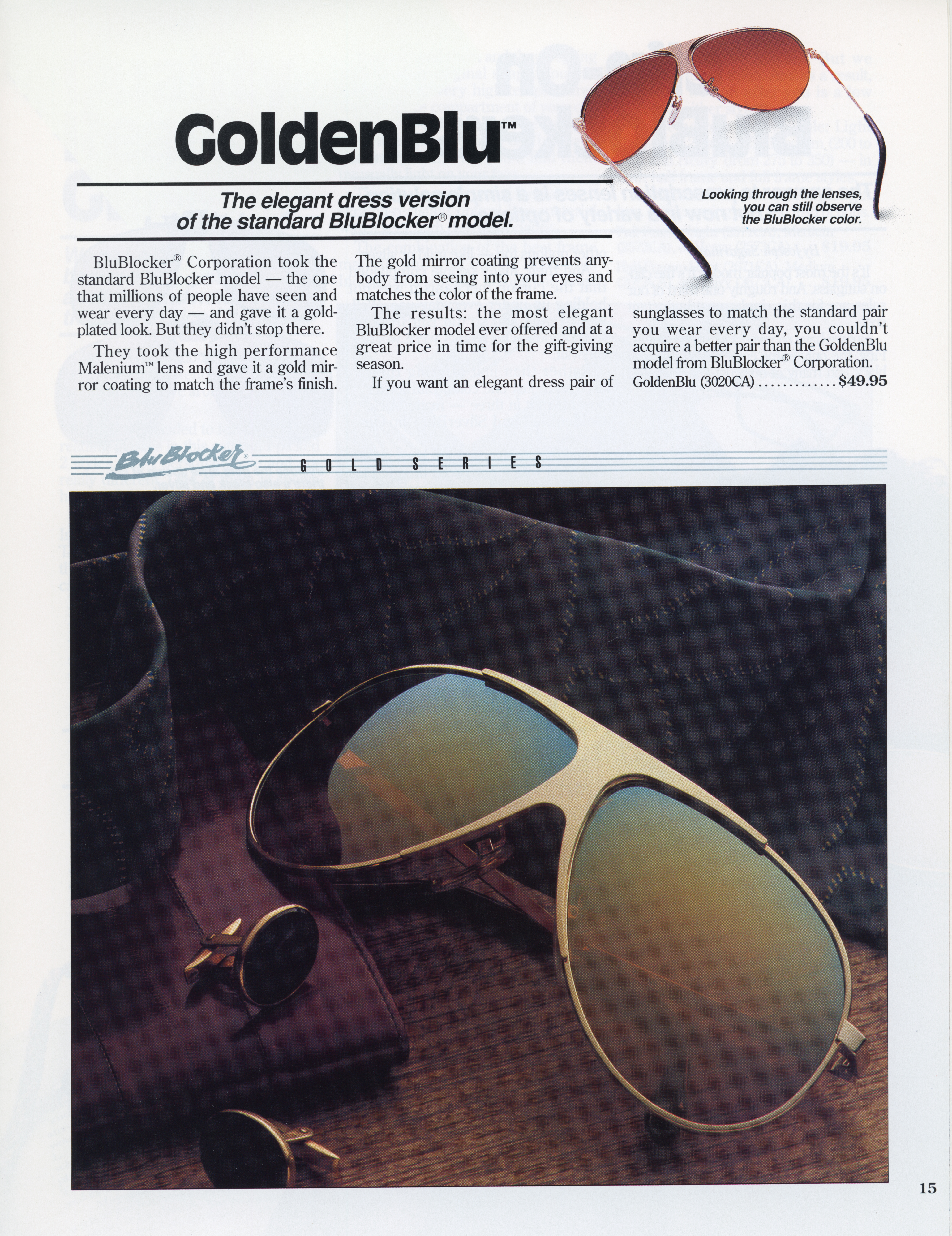 As to why an affordable sunglasses company is suddenly experimenting with over-the-top eyewear, BluBlocker owner (and third-generation jeweler) Ryan Miller says he just "really liked" the idea of making ultra-luxury frames.
"The idea was really born from wanting to make a super-luxe, solid gold pair because we just really liked that concept," said Miller, who bought BluBlocker in 2021.
"It's a huge departure. As the infomercial brand that we're known as, making one of the most luxurious pairs of sunglasses on the market is very different from what we've done in the past. But we thought it would really be fun. Like, 'Why not do it?'"
Miller said it took his team nearly two years to finish the sunglasses, given the heaviness of gold and how soft it is compared to other metals that glasses are typically made from.
"It was complicated. Even getting the temple arms to work and be functional. One of the details is that the arms click open the same way a lock opens on a really high-end bracelet. Coming up with all the details to make a really good pair of sunglasses out of solid gold is just different from what's usually done."
While only one pair of Gold Coasts is currently available, Miller says BluBlocker is planning on making ten. And he's already thinking about how his next ultra-limited drop will be even more extravagant: "I think our next pair will have diamond pavé across the front of them."