Inside Miami's $59 Million Aston Martin Triplex Penthouse
The luxe living quarters are expected to be complete by next spring.
Driving an Aston Martin is an opulent experience in its own right, one that defies all expectations — but what about living in a residence designed by Aston Martin? Of course, it measures up, and then some, at least if new renderings of the brand's landmark penthouse and building are any indication.
The luxury automaker recently unveiled a Tokyo mega-mansion, and now, design enthusiasts and automotive aficionados can get an inside look at the stunning, $59 million triplex penthouse atop the company's forthcoming Miami Aston Martin Residences.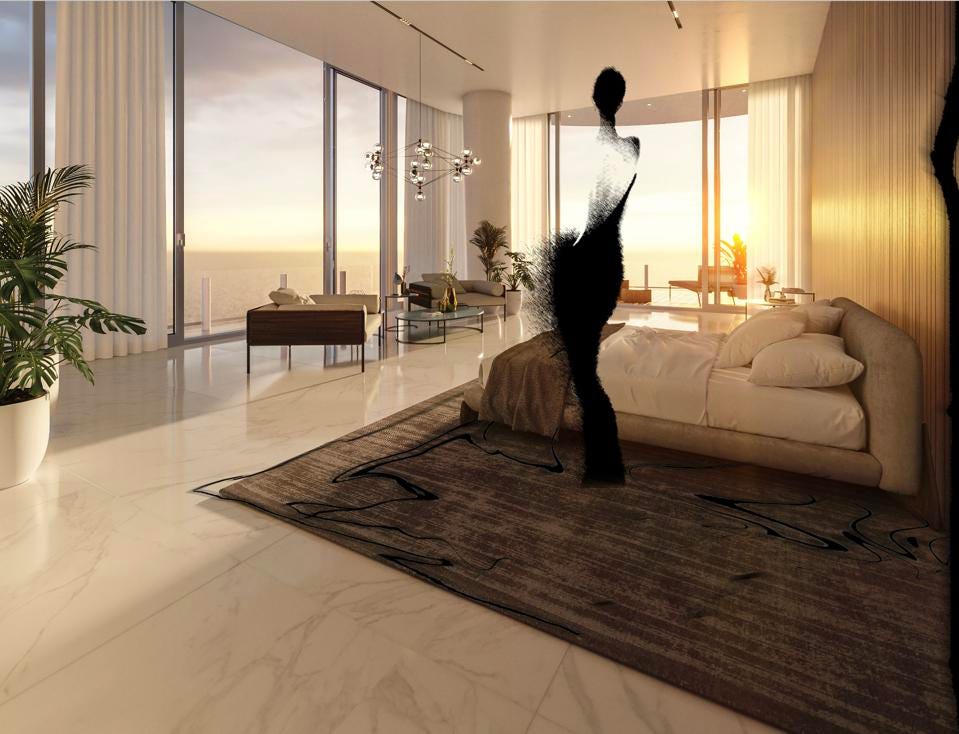 The 391-unit building only has about 10 residences left for sale, and is expected to be complete by the first quarter of 2023, and the triplex penthouse has been dubbed the UNIQUE for its one-of-a-kind, otherworldy design.
The residence clocks in at more than 19,000 square feet and includes its own elevator, a private pool and spa, and a whopping seven bedrooms and eight bathrooms.
The building's development team even commissioned an orchestra to come up with an original score designed to capture the ambience of the Aston Martin Residences.
The unit also comes complete with a handsome 10-pound book celebrating Aston Martin's design prowess.
The building itself will also house an art gallery, and as to that exclusive art book, it can be proudly displayed on a custom-made lectern sculpture commissioned for the stunning penthouse.
The kitchen and living spaces throughout boast stunning views of the Atlantic Ocean, for good measure.
There's nothing quite like driving an Aston Martin, but living in the design world of the automaker looks just as stunning — and nothing if not luxurious and yes, expensive.