Aston Martin's Tokyo Mega-Mansion Is A Stunning Work Of Art
The luxury automaker's jaw-dropping mansion is set for completion in November 2023.
When one of the world's finest automakers sets its sights on expanding its universe into the world of luxury architecture, it's certainly worth watching closely. And if the forthcoming № 001 Minami Aoyama is any indication, the British auto titan is conquering that arena in impressive fashion, too.
It's not the company's first foray into home design: Aston Martin announced its first-ever private residence in 2020, and the ante has been upped even further with an insanely cool four-story townhouse designed to put Aston Martin supercars front and center.
The residence, set to be completed in November 2023, was designed in partnership with Japanese luxury concierge Vibroa.
And just in case you were wondering, the incredibly luxe home has already been sold to a private buyer (who that might be is anyone's guess, but perhaps it caught the eye of 007 himself).
The world of Aston Martin now includes luxury SUVs and a luxury Scotch, and this Tokyo mega-mansion shows off the brand's incredible eye for design and detail every step of the way.
It boasts two Aston Martin parking spots and a viewing gallery visible from the dining room — certainly not a bad view for dinner — plus amenities like its own spa and gym.
It also comes complete with something no luxury abode should be without: A wine cellar, and the mansion is topped off (quite literally) with a roof terrace boasting next-level views of Tokyo's skyline.
"As Aston Martin grows in Japan, we are passionate about finding innovative ways to bring our ultra-luxury brand to life and resonate with local consumers," said Greg Adams, Aston Martin's regional president of Japan and South Korea, in a statement.
Adams went on to call the residence the "perfect home for an Aston Martin owner," and one glimpse at any of its otherworldly amenities drives home that point quite nicely.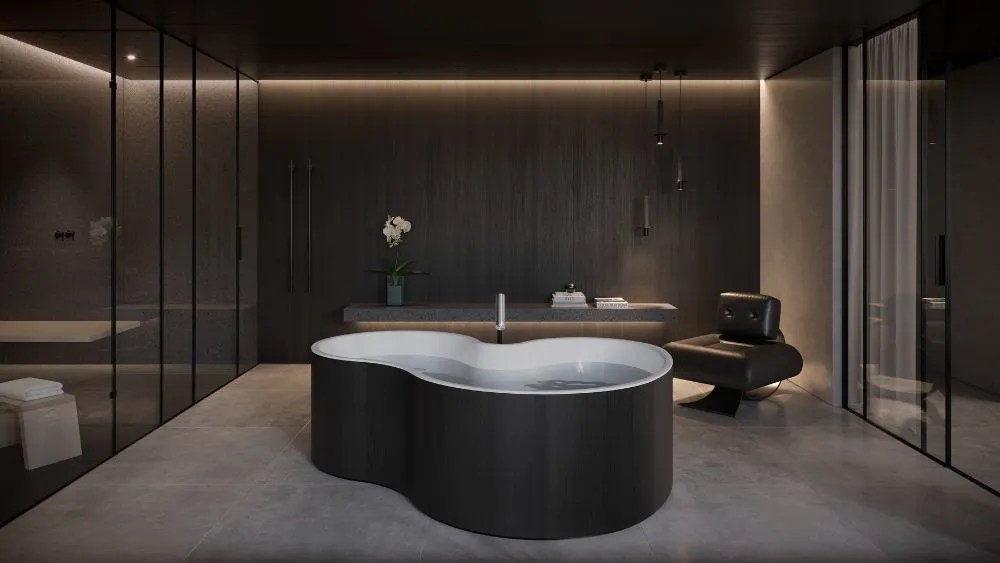 While this one-of-a-kind residence is fit for only one lucky buyer, one imagines it's not the last foray Aston Martin will make into real estate.
Keep a keen eye out for what the famed automaker has up its sleeves next.