Rolex Goes Deep With First All-Titanium Dive Watch
Rolex's Deepsea Challenge features a record-setting water resistance of more than 36,000 feet.
Rolex is no stranger to quite literally going deep and pushing the boundaries of watchmaking, and although the bar has been set incredibly high, you might say the latest Rolex release is among its most legendary yet.
That's certainly saying something, but one look at the specs on the Rolex Oyster Perpetual Deepsea Challenge is enough to turn skeptics into believers.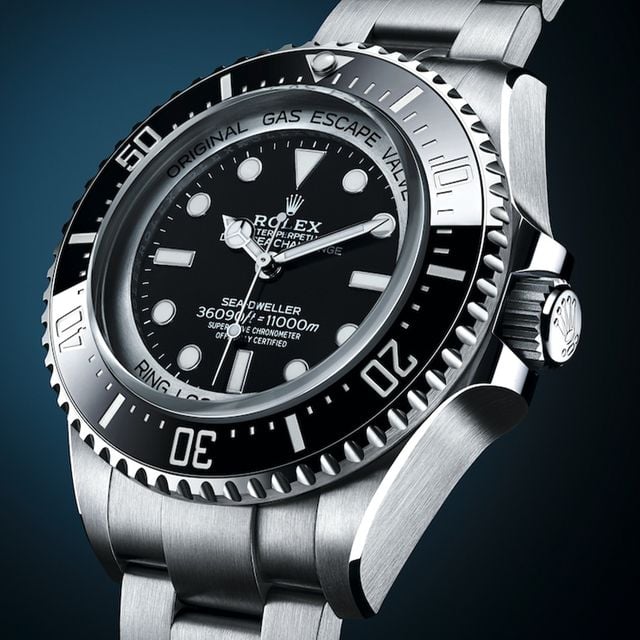 The fact that it's Rolex's first-ever titanium watch (crafted from RLX titanium, no less) is impressive in its own right, but things only get more appealing from there.
Start with the water resistance — a record-setting dash of performance down to more than 36,000 feet — and marvel at the rugged, beastly 50mm case size.
Next, consider the fact that it's inspired by the experimental watch donned by filmmaker James Cameron during his journey to the seven-mile deep Mariana Trench in 2012.
Here's where things get even more interesting: The use of RLX titanium resulted in a considerably lighter watch compared to the timepiece worn by Cameron, but one example of the Rolex approach to meticulous design and performance.
Better still is the 70-hour power reserve & the self-winding, in-house caliber 3230 movement.
For good measure, the caseback features an engraving nodding to Cameron's descent, including the date itself.
Not everyone is privileged or adventurous enough to descend to the depths of the great unknown, a benchmark reflected in the price of this investment-level watch (it'll set you back about $26K, to be exact).
For now, admire the latest adventure-worthy Rolex watch from affair — the phrase "often imitated, never duplicated" definitely comes to mind.