This Custom Rolex Daytona Is A Grail-Worthy Green & Gold Beauty
The one-of-a-kind watch updates the Daytona with a "Honey Green" colorway.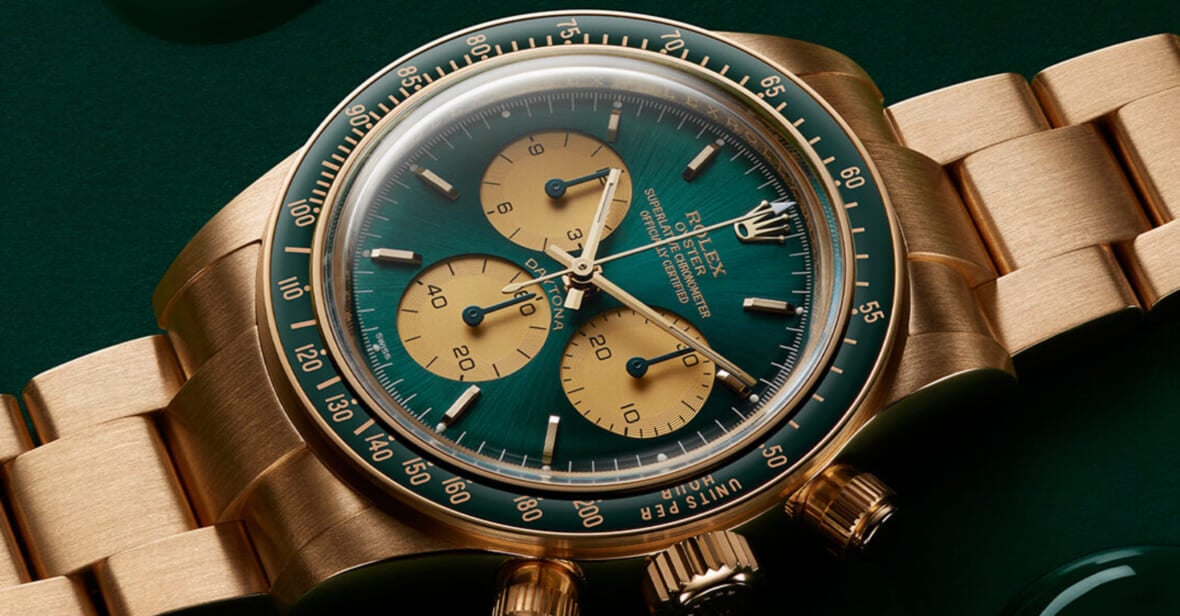 There are coveted vintage watches aplenty on the market, especially one in which a Rolex watch grows in value seemingly by the year. What's the next level beyond that? A handsome vintage watch, done up in a custom, truly one-of-a-kind design.
Courtesy of the horology masters at Artisans De Geneve, the iconic Rolex Daytona was just revamped in a special edition (for just one collector) in a handsome, distinctive Honey Green colorway.
After careful consideration, the right shade of green (a vintage, timeless color to pair nicely with the dial's rich gold detailing) was selected to revamp the racing chronograph in a truly distinctive way.
The dial itself boasts a sunray finish, with gold powder-dusted chronograph sub-dials, while the bezel insert (made from bakelite) "pays homage to the watches of a past time," according to Artisans De Geneve.
Fittingly, the option for a green leather strap "for refined wear," according to the watchmaker, offers another stylistic swerve beyond just the exquisite dial and gold color pairing.
Hand-beveled Geneva stripe bridges and sandblasted gold powder counters further deepen the custom, extraordinary vintage look on offer.
The end result is an enviable, memorable take on the Rolex Daytona, with all the care and craftsmanship one could hope to enjoy. The only problem? There's but one of these on the market, so you better act fast if you want this grail-worthy timepiece.