The Best Bourbons Of 2022
Toast the year's best expressions of "America's native Spirit."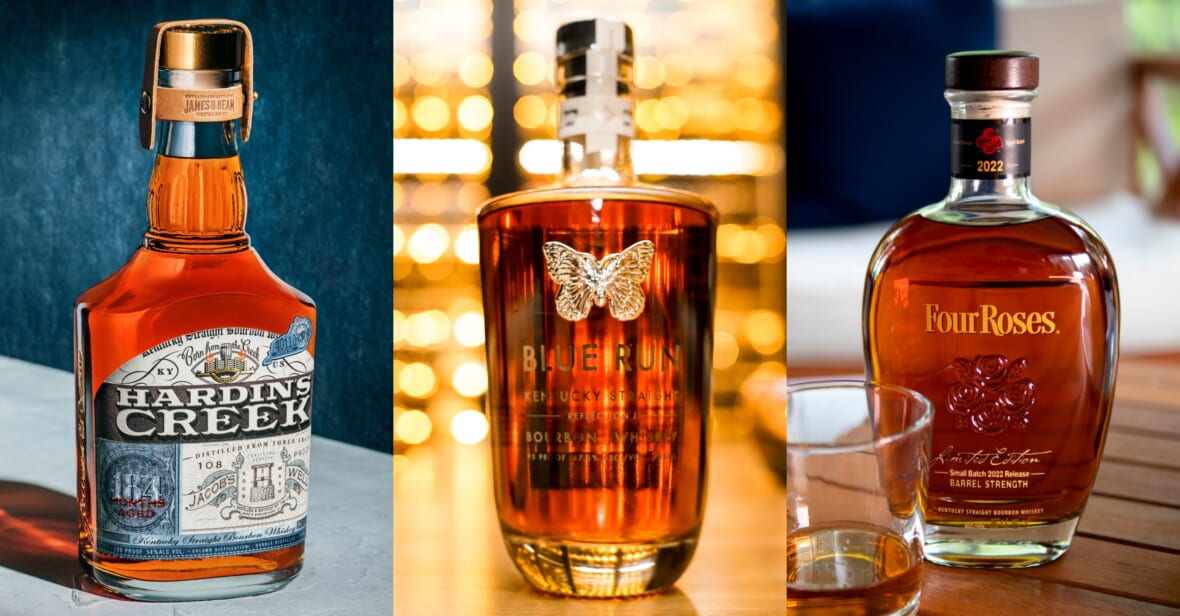 As we wrap up our five-part Best In American Whiskey extravaganza, we arrive at the most important category in all American whiskey: bourbon. A drink so generous it inspired Southern genius and raconteur Mark Twain to utter, "Too much of anything is bad, but too much good whiskey is barely enough." True that, Mr. Twain.
Although the market for America's original spirit might not be as absurdly torrid as its single malt cousins across the pond, many bourbons are entering that elite auction level in both quality and corresponding price tags—eclipsing global ultra-luxe spirits like scotch, cognac and rum. While we'll mention a few of these unicorns, we'd be fools not to showcase the many terrific bourbons under $100 offering plenty of the vanilla, honey and brown sugar notes that make bourbon beloved the world over.
And don't miss our round-ups of most innovative American whiskeys, best new ryes, top Tennessee and American single malts and best "second finish" whiskeys.
Heaven Hill Heritage Collection '17-Year-Old Barrel Proof' Bourbon
The Bardstown distillery's new ultra-premium Heaven Hill Heritage Collection's inaugural edition boasts an extraordinary blend containing at its youngest bourbon aged 17-years (it's actually 28% 20-year-old, 44% 19-year-old and 28% 17-year-old barrels) pulled from their Deatsville, Glencoe, Schenley and Bardstown rickhouses.
But this Heaven Hill Heritage Collection 2022 is just the beginning. Every spring this annual highly-limited release will blossom like Dutch tulips across the bourbon landscape, highlighting some of Heaven Hill's oldest whiskeys—each year singling out one of the six traditional mashbills they produce (Heaven Hill being the only heritage distillery to produce this range). For 2022 Heaven Hill shows off its 78% corn/10% rye/12% malted barley mashbill, bottled at barrel proof (59/1% ABV).
Making some of the best brown in America since 1935, expect nothing short of excellence—Heaven Hill Heritage Collection offers whiffs of caramel, oak and leather with a luscious viscosity and dark amber color, coating your mouth with notes of tobacco and dark cherry. Simply superb. The handsome, heavy laser-etched decanter they sent us to enjoy this spirit barely does the juice justice. $1,200
George T. Stagg 'Antique Collection 2022' Bourbon
One of Buffalo Trace's incredibly coveted Antique Collection was featured in our Rye chapter. We selected the Thomas H. Handy bottle over the 18-year-old Sazerac because age alone does not equal superiority or quality (although to be clear, the Sazerac was lovely). Given the quality of Buffalo Trace's renowned distilling magic, their excellence in woods and coopering, the extravagance of the age statements and the potency of their un-proofed final juices, one could easily argue every single bottle in the BTAC should make these lists—but we'll select our favorite instead. And this year we lean towards the 2002 George T. Stagg expression.
George T. Stagg made headlines last year as Buffalo Trace's team—lead by Master Blender Drew Mayville—didn't think their 14-year old barrels were up to snuff (Quality tests administered range from turbidity checks to gas chromatography, but the human palate remains the ultimate decider.) So this year's George T. Stagg return is welcomed like a sailor at home port. Boasting its highest proof since 2016 (69.4% ABV), robust notes of vanilla bean, toasted pecan and nougat with a viscous mouthfeel, this George T. Stagg 15-Year-Old really benefits from a couple drops of water to open her up—revealing deeper flavors of oak, tobacco and even cherry pie. $1,200
Nelson Brothers 'Reserve' Bourbon
The Brothers Nelson—Andy and Charlie—relaunched their great-great-great grandfather Charles Nelson's Green Brier Distillery (Tennessee's largest pre-Prohibition distillery) after a most fateful discovery in 2006. The boys took off running with the excellent Belle Meade line of bourbon sourced from Indiana's MGP (a blend of differing high rye mash bills averaging in age from 6-8 years). But this year they launch their own eponymous line of whiskey distilled in their newly constructed Green Brier Distillery in Nashville, beginning with twin high-rye offerings: Nelson Brothers Classic Bourbon and Nelson Brothers Reserve Bourbon.
Both aged in new, charred American oak barrels, the Classic Bourbon comes bottled at 93.3 proof and is tailored to be as approachable as possible (SRP $37). Meanwhile their Reserve Bourbon adds bigger, bolder elements and flavors to a similarly balanced profile, thanks to the handpicking of choice, well-aged barrels that are blended into an exceptional expression. The Reserve Bourbon packs more punch at 107.8 proof. $60
Booker's Batch 2022-02 'The Lumberyard Batch' Bourbon
The mythology of the Jim Beam label is among the most celebrated in the American whiskey lore. The names are held in renown.
The legendary Booker Noe (grandson of the eponymous Beam) continued a 200-year-old family tradition, where for Christmas every year they would select the best honey barrels from the center-cut of the rick house and bottle the juice for family and closest friends—always uncut and unfiltered, straight from the barrel. In 1988 he allowed a 1,000-case release of this pure bourbon and dubbed it "Booker's Batch." A Jim Beam label was born.
Ever since Booker's son Fred continued this tradition, using the same 'uncut and unfiltered' standard. Now coming is the label's second offering for 2022: Booker's Batch 2022-02, "The Lumberyard Batch." The name comes from the job Booker held before entering the family business of moonshine/distillation.
Of course there's much more to the story. After a failed matriculation at the University of Kentucky, Booker bailed and hitch-hiked across America looking to eventually join the Air Force. When his mom found out, she panicked and begged him to come back and work at the local lumberyard with his Uncle Jere. Built like an ox and famously hard-working, Booker's work ethic eventually earned him a job at the family distillery—where he proceeded to work nearly every position, eventually becoming the 6th Generation Master Distiller (Booker's grandson, Freddie, was recently named Jim Beam's Official 8th Generation Master Distiller).
Aged for 7 years, 1 month and 7 days, Booker's Batch 2022-02 boasts a beautiful deep amber hue redolent with vanilla in both the nose and palate. It packs a wallop at 124.8 proof, so make sure you drop some water in your dram or a couple rocks. $200
Wyoming Whiskey '10 Year Anniversary Edition' Straight Bourbon
Wyoming Whiskey scripts a fitting love letter to two things: Wyoming and whiskey. Based in the booming metropolis of Kirby (population: 90), Wyoming Whiskey uses non-GMO corn, winter wheat, winter rye and barley all grown in the Bighorn Basin by farmer Brent Raegeth, as well as fresh water sourced from a local limestone aquifer that hasn't seen the light of day in over six millennia. They are proud to note that "every drop of this bourbon is 100% Wyoming."
At the beginning of December Master Distiller Steve Nally and Master Blender Nancy Fraley released a very special bottle to celebrate a full decade of whiskey making in the Cowboy State: Wyoming Whiskey 10 Year Anniversary Edition Straight Bourbon. For the special occasion Nally and Fraley together handpicked 20 barrels filled in 2011 (68% Corn / 20% Rye / 12% Malted Barley) whose profiles would create something worthy of the Aluminum Anniversary—in this case think sweet and big like marshmallows, cornbread and candied yams. The oldest juice ever released by Wyoming Whiskey, "10 Year Anniversary Edition" Straight Bourbon Whiskey is bottled at 51.7% ABV. $200
Elijah Craig 'Barrel Proof A122' Bourbon
For the first release of 2022 Elijah Craig celebrates a full decade of its Barrel Proof expressions. Famed for its 12-year old age statements and non-chill filtration, Elijah Craig's A122 varietal checks in at a hefty 60.4% ABV (120.8-proof) and delivers with the consistency Heaven Hill's prestige label is known for. Elijah Craig has taken home a battery of awards (Whiskey Advocate's "2017 Whiskey of the Year," "Best Small Batch Bourbon 11 Years of Older" at SFWSC 2017, Double Gold at the 2020 IP Awards, etc.), over the years, and while there were several great bottles this year our favorite was the A122. You may have to pay slightly over its SRP of $60. $90
Barrell Craft Spirits 'Cask Strength Batch 033' Bourbon
The crew over at Barrell Craft are among the most prolific arbiters of great whiskey, releasing a volley of the highest quality bourbons and ryes every year—among them the new Gray Label portfolio, Seagrass range and a slew of single barrels, cask strength and uniquely finished expressions.
Our favorite in 2022 of their Cask Strength series is Batch 033, a rich and complex marriage of several straight whiskeys—blending high-rye and high-corn bourbon barrels aged between 5-9 years, all distilled and aged in Kentucky, Indiana and Tennessee. Naturally, Barrell Craft Bourbon Batch 033 comes bottled at cask strength, 58.3% ABV (116.6 proof). While a wallop, Batch 033 still drinks surprisingly smooth, with notes of applesauce, candied grapefruit and champagne, with a finish of elderflower and taffy. $79.99
Four Roses 'Small Batch 2022' Bourbon
Four Roses Small Batch features four unique bourbons (aged minimum of 4 years) blended by Four Roses Master Distiller Brent Elliot to create one of the best heritage Kentucky straight bourbons available—spicy and rich with fruity aromas and hints of caramel and oak. Four Roses Small Batch is always a favorite, and for its the 15th edition Four Roses' "Small Batch 2022" features a quartet of different hand-selected batches (aged 14 to 20 years) representing four of the Lawrenceburg, Kentucky distillery's 10 distinct bourbon recipes.
For 2022 Master Distiller Brent Elliot chose a 14 year-old OESF Bourbon recipe, a 14 year-old OESV, a 15 year-old OESK and a 20 year-old OBSV. Only 14,100 hand-numbered bottles of the 2022 Four Roses Small Batch will be sold in the USA with a SRP of $180—but knowing the market, you'll be lucky if you even find it for double that price. $700
WhistlePig 'PiggyBack 100-Proof' Bourbon
WhistlePig launched in 2007 with a mission to elevate Rye Whiskey into a new stratosphere of respect, which it has steadily accomplished via its superb Boss Hog annual release and a quality core portfolio. The fact that the Vermont farm is now the #1 ultra-premium rye producer in America and arguably spearheading a category that is exploding from bodegas to bar shelves, means they've accomplished their goals. So what's next? Why bourbon, of course—what WhistlePig Whiskey Blender Meghan Ireland described to us as "the yin to our yang, exploring the softer and sweeter side of whiskey."
As they did with their PiggyBack 100% Rye, WhistlePig PiggyBack 100-Proof Bourbon Whiskey starts with a super-high corn mash bill, complemented with a dash of rye as an homage to WhistlePig's roots. It is then aged for 6 years in Char #3 barrels, meaning that WhistlePig PiggyBack 100-Proof Bourbon offers a longer age, higher proof and bolder grain profile than most traditional bourbons. $40
Knob Creek '18 Year Old' Bourbon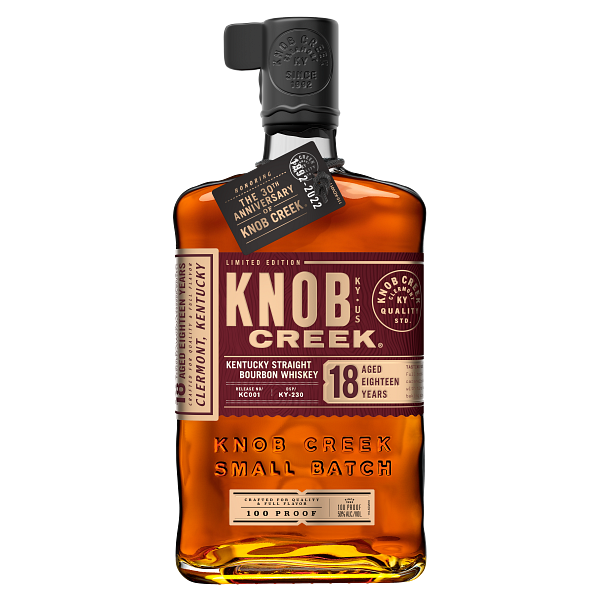 Three decades ago the legendary Booker Noe—grandson of Jim Beam—released the Small Batch Bourbon Collection, forever changing the American whiskey landscape. Booker's prescience cannot be overstated as the global whiskey industry in the 80s was languishing precariously on the cliff of insolvency, yet the 6th Generation Master Distiller still believed in crafting and bottling the finest whiskey he could. So in 1992 The Small Batch Bourbon Collection was born with Bourbon Quadruplets: Booker's, Baker's 7-Year Old Single Barrel, Knob Creek 9-Year Old and Basil Hayden.
To celebrate the 30th Anniversary of this amazing collection Jim Beam released some heaters, including this Knob Creek 18 Year Old. The very limited production is the oldest Knob Creek expression ever released, aged twice as long as its flagship bourbon. The pre-prohibition style bourbon that Booker created in 1992 spends even more time in their Kentucky rickhouses soaking in Knob Creek's maximum charred American Oak barrels, earning long notes of caramelized oak, sweet vanilla and brown sugar—not to mention a luxurious deep auburn hue. Bottled at 100-proof, Knob Creek 18 Year Old has a SRP of $170, but could quite likely fetch quite a bit more in the open market. $380
Blue Run Spirits 'Reflection I' Kentucky Straight Bourbon
While they've made their name on LTO expressions like their debut 13-year old bourbon, Blue Run is looking to create some standards in their portfolio. "Reflection I" is available across the US, the Kentucky Straight Bourbon contract distilled by Bourbon Hall of Famer Jim Rutledge specifically for Blue Run.
The small batch whiskey was distilled by Rutledge at the above Castle & Key Distillery in 2018, and only 200 barrels were selected for "Reflection I" — a combination of medium and deep char-level barrels, aged in both Frankfort and Bardstown, Kentucky, and then bottled at 47.5% ABV (95-proof). "Reflection I" is a terrific daily sipper, an affordable entry level door into Blue Run's world of crafting and sourcing superb bourbons and ryes. $88
E. H. Taylor, Jr. 'Chris Stapleton Single Barrel Bottled in Bond' Bourbon
This year Buffalo Trace teamed up once again with country superstar Chris Stapleton to both celebrate Bott`led in Bond Act Day and raise money for Stapleton's Outlaw State of Kind charitable fund. In honor of the 125th passing of the Bottled in Bond Act The Grammy Award Winner hand-picked the single barrel of E. H. Taylor, Jr.—this particular liquid gold poured into an American oak barrel on June 3, 2009. This is the second year for the partnership between E. H. Taylor, Jr. and Stapleton's charitable fund, to which all proceeds go. For fans of Buffalo Trace or Chris Stapleton, this Single Barrel Bottled in Bond Bourbon is a no brainer as the value of the unique bottle is sure to skyrocket. $200
15 Stars '7 & 15 Year Old Private Stock' Bourbon
15 Stars is so proudly Kentuckian that founders Rick and Ricky Johnson put it all in the name—their moniker nodding to Kentucky being the 15th state to join the union, and therefore the 15th star on the American flag. The father and son team's debut effort was a 14-year old bourbon dubbed Timeless Reserve, and with their second fine aged bourbon they hope to lower the barrier of entry with a cheaper price point. So the Johnsons blended a younger (but still quite mature) 7-year old bourbon into their halo offering, proofing down to 107 and cutting price in half (from $280 to $140).
Despite adding a younger whiskey and proofing down, 15 Stars 7 & 15 Year Old Private Stock Bourbon still preserves the ideal high-age bourbon notes, with a nose of cinnamon and maple adding to signature flavor notes of caramel, vanilla and stone fruit. Unsurprisingly it's picked up many awards in its short lifetime, including a John Barleycorn Gold, SIP Awards Platinum and Double Platinum at the Ascot Awards. $140
Hardin's Creek 'Jacob's Well' Bourbon
One of the pillar families of American whiskey royalty has announced not only a brand new expression, but an entirely original new ongoing label. This summer at a private event Jim Beam Master Distiller and world renowned Master Raconteur Fred Noe announced two things: First, that his son, 8th Generation Beam Family Distiller Freddie Noe, would take over as Master Distiller when the legendary Fred retires—much like Fred took the reins when his pops Booker retired.
Secondly the elder Noe unveiled Hardin's Creek Kentucky Straight Bourbon Whiskey—an ongoing annual series of LTO releases featuring some of the rarest and most unique whiskes in the Jim Beam rickhouses. Colonel James B. Beam features a very young blend of 2-year-old whiskes, whereas Jacob's Well blends two ultra-aged bourbons. With beautiful color and mouthfeel, the latter earns its hefty price tag with rich notes of caramel, oak and hints of peach and apricot.
Both of Hardin's Creek offerings come bottled at 54% ABV, neither to be seen again once they've sold out. Jacob's Well with a $150 SRP and Colonel James B. Beam for $80. $230
Castle and Key 'Small Batch Wheated Bourbon Batch #1'
Castle and Key has been releasing some truly superb whiskey, like last year's mouthwatering Slow Hands Single Barrel Rye. Now the Frankfurt, Kentucky team release their first wheated bourbon since restoring the former Old Taylor Distillery in 2014, offering two expressions: Batch #1 (50% ABV) and Batch #2 (49% ABV), each for $60. Castle and Key Small Batch Wheated Bourbon Batch #1 smells of caramel and sugar cookies, with matching flavors of shortbread and allspice. Only about 11,000 bottles of each will be sold. $65
Parker's Heritage Collection 2022 Bourbon

Heaven Hill's annual Parker's Heritage Collection remains one of the distillery's most anticipated releases every year, and 2022 is no different. For Parker's 16th edition Heaven Hill starts with dual variations of their traditional Bourbon mashbill (78% corn / 10% rye / 12% malted barley)—the first being a 13-year-old produced in December 2008 (aged on the 5th-7th floors of Rickhouse Q) which was then re-barreled into new American white oak with a level 3 char and aged for an additional 4 weeks.
This double-barreled whiskey was then blended into an older 15-year-old Bourbon produced in January 2007 (aged on the 2nd & 5th floors of Rickhouse II)—two-thirds of the whiskey being the former, with one-third the latter. Parker's Heritage Collection 2022 is a deliciously rich bourbon, deep in color and rich in mouthfeel with rolling notes of butterscotch, chocolate and oak.
Named after Heaven Hill's late Master Distiller Parker Beam who died of ALS, all proceeds from each bottle in the Heritage Collection will go to the ALS Association. If you can find Parker's Heritage Collection 2022 Bourbon for the SRP of $175 snatch it up quick. $900
Booker's Batch 2022-03, 'Kentucky Tea Batch' Bourbon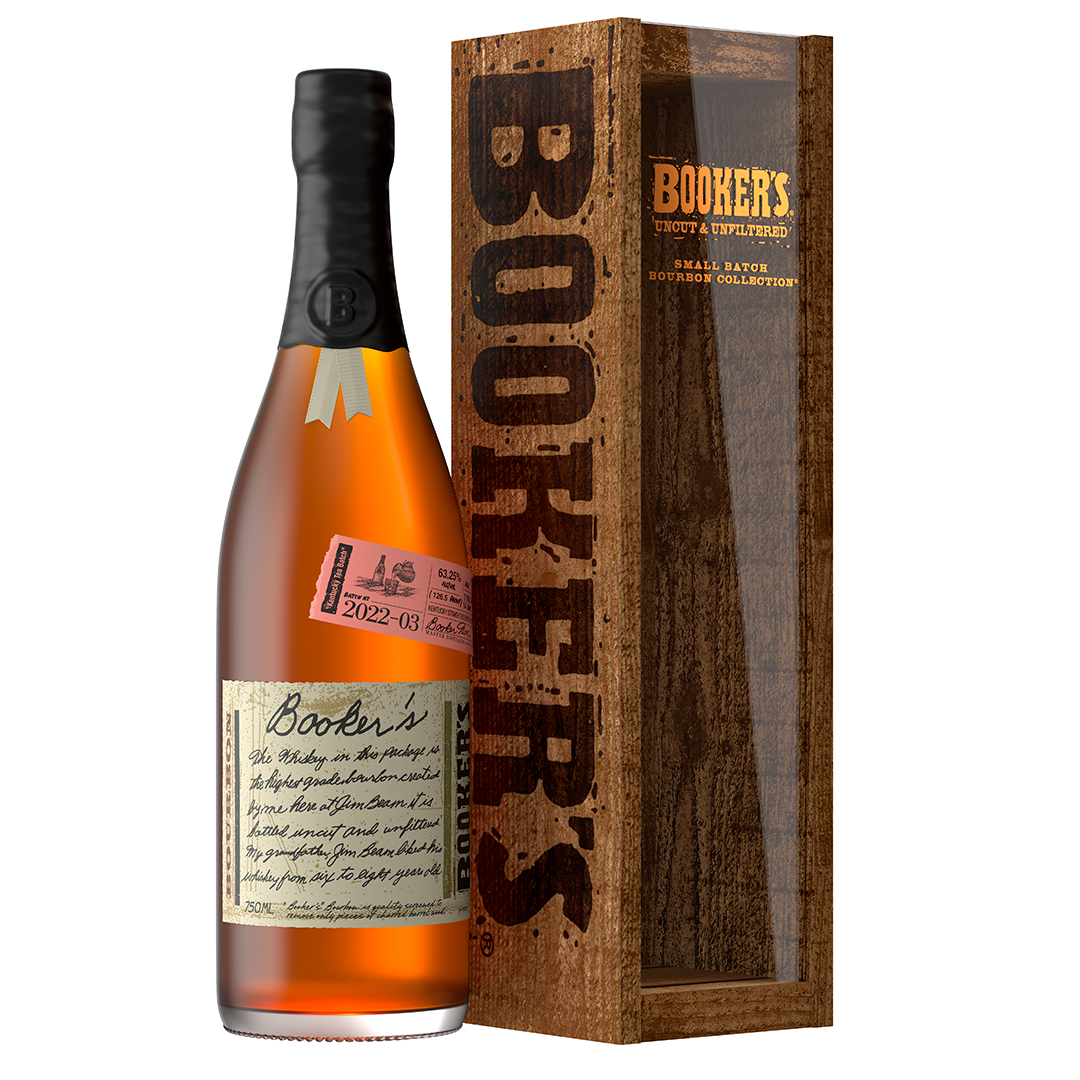 The 3rd outing in Booker's 2022 season lands with "Kentucky Tea Batch." The label, known for its always straight-from-the-barrel, uncut and unfiltered manifesto, creates this homage to Booker's favorite drink: a 1-part bourbon / 4-parts water concoction Booker would sip at every dinner. The name derives from Booker's preference to flavor his water with bourbon in place of tea leaves, as is the custom with southern sweet tea. Apparently he thought it complimented food perfectly, especially country ham and fish. Notably this batch, with its sweet vanilla notes and aroma, would certainly work well with the former.
The barrels for Booker's Batch 2022-02, "Kentucky Tea Batch" were handpicked by Jim Beam's 7th Generation Master Distiller Fred Noe, all aged exactly 7 years, 4 months and 14 days in Kentucky in new American Oak. The famously uncut "Kentucky Tea Batch" comes bottled hot at 126.5 proof. $200
Woodinville 'Cask Strength' Straight Bourbon
One of Woodinville's most difficult-to-source bottles every year is their Straight Bourbon Cask Strength, because it's normally sold only at their distillery in Quincy, Washington. The only other way to try the Woodinville juice straight and undiluted is if you purchase a Woodinville Whiskey private barrel. But this year they collaborated with K&L Wines for a "Cask Strength" bottle—this one a signature 6-year bourbon (Cask #7039) bottled straight and uncut like Ol' Dirty Bastard at 57% ABV (113.96 proof). $70
Follow Contributing Spirits Editor Nicolas Stecher on Instagram at @nickstecher and @boozeoftheday.