Review: Apple iPhone 15 Pro & Pro Max
A tougher titanium case, increased power, better pictures and a two-day battery life are among the reasons iPhone users may want to upgrade.
Credit: Apple
Say hello to the iPhone 15 Pro, Apple's latest flagship phone that packs in more power, camera lenses, innovation and creature comforts than any mobile phone yet. Despite that being the case with a new iPhone almost every year, there's a distinct feeling of change to the iPhone 15 Pro hardware that hasn't been present the past few years.
It starts with titanium and the material difference that makes to the overall look of the iPhone 15 Pro. It is unmistakably lighter in the hand and I'm not one who minds a weighty phone because the heft usually translates to durability but the iPhone 15 Pro feels lighter without sacrificing significance or sturdiness. It looks and feels rugged and, with the titanium frame and the ceramic shielded touchscreen, it really is.
The Natural Titanium color option is sharp and raw. It's my favorite of the bunch, though the black, white and blue options were a bit cleaner and perhaps more dignified than stylish. Apple has found inspiration from industrial design and minimalism since its inception and this might be the best culmination of both I've ever seen in a single device. This is a far cry from the muted purple and mirrored frame finish of last year, thank goodness. I'm hoping that these design cues persist in the coming years and that Apple doesn't bow to the pressure of making pro gear look like the original iMacs.
The bezel is negligibly smaller. It's a good indication of what's to come and might be significant in terms of percentages but I didn't find it to make a functional difference, especially on the large, bright, beautiful screen of the Pro Max.
USB-C is a very, very welcome addition. I was a fan of lightning when it meant leaving the old 30-pin adapters behind but lightning was increasingly a nuisance in the recent iPhones, as more and more of my Apple products could be charged off of a single power brick. Yet my iPhone, the device that I use most and therefore runs out of battery more often than anything else, required its own designated charging cable. Previous iPhones now feel much more high maintenance as a result of the change in the 15 Pro.
The shift from Lightning to USB-C is primarily about convenience for the average user but there are benefits to speed that will make pro users happy. Wired backups and Photo app transfers to a laptop or hard drive are finally fast enough to not feel archaic anymore. That connection also enables really incredible pro use-cases for photographers, videographers and creators relying solely on an iPhone or looking to integrate one of these into their overall setup. On the image and video capture front, USB-C really helps the iPhone 15 Pro earn its pro title.
USB-C will definitely help make the iPhone 15 Pro easier to integrate in a professional setting but it's the insane camera array that would make a creative professional want it there in the first place. The iPhone 15 Pro Max that Apple gave me for the purposes of this review has the equivalent of seven lenses packed into it.
The versatility of this configuration is genuinely astounding. iPhone has been creeping towards making DSLRs obsolete for a long time but the addition of the 5x optical zoom telephoto lens might actually be the nail in the coffin for some pro shooters.
For those who complain about Apple's over-processed image results, shooting in RAW mitigates that on the pro level. For the average user, photo results are just better through and through, even over an iPhone 14 Pro. That improvement is thanks largely to a reimagined image pipeline that now makes regular shooting, portrait shooting and live photos automatic and retroactive.
Basically, if the iPhone 15 Pro recognizes I'm shooting a face—dog, cat, fellow human, whatever— it will capture the image in regular, portrait and live all at once in the moment.
Later, while reviewing things, I can then choose if I'd like to keep it as is, fine-tune the depth of focus, alter the actual focal point or bounce or loop it like any live photo. The result is that iPhone 15 Pro owners will now be able to get closer to the exact image they meant to capture, regardless of what was shot and in a way that simply wasn't possible before these phones existed.
This same camera array will be the first one to have the ability to capture Spatial Video that will eventually be played back on Apple's Vision Pro headset. While the feature isn't yet enabled and the HD Vision Pro is slated for release next year, the promise of capturing augmented reality experiences will likely make the iPhone 15 Pro an important first tool in the future of computing.
So many of these camera capabilities are possible thanks to the Apple Silicon's A17 Pro chip. It's an example of Apple Silicon being supremely powerful and efficient and a big part of the reason the iPhone 15 Pros are in the mix not just as additions to professional photo shoots and movie sets but also as gaming console killers.
Apple's work in the gaming space, the rise of Apple Arcade and creation of hardware like the 15 Pro's A17 Pro chip, that's able to mimic Nvidia's ray-tracing and DLSS upscaling tech, are quickly lending the company the credibility that has largely eluded them the past three decades.
High-profile AAA partnerships with the likes of Hideo Kojima, Capcom and Ubisoft will soon bring native versions of games like Death Stranding, Resident Evil and Assassin's Creed to iOS. Apple is making moves to stake a claim in core gaming and they have the cash and hardware, like the iPhone 15 Pro and the iPad Pro to back it up. Nintendo, Playstation and Xbox should be concerned.
The unsung hero of the iPhone 15 Pro is the action button. Apple has replaced the ringer silence toggle switch with an actual button. Press it and the phone will make the familiar switch between audible ringing and silence but a long press will perform one of several actions like turning on the flashlight or initializing the camera app.
On first glance, the action button seems very limited in what it can do but on further inspection one of the actions that can be mapped to it is simply labeled as "Shortcut" and this is where things get interesting.
Shortcuts have garnered a small but dedicated community since their introduction a few years ago. They take some know-how to set up but can effectively make any iPhone execute a series of actions automatically. Setting a scene in the Home app, setting a wake-up routine, snapping a picture and texting it automatically to a group thread; these can all be done with a single press of a shortcut which, on the 15 Pros, can now be mapped to the action button.
It gets better though. That action button mapping can dynamically change based on a schedule or geolocation. At work, it can open an email. At home, it can turn an AppleTV onto Netflix. On the weekends, it can turn on the Camera app to selfie mode. All automatic, all with a button press. Sadly, I'm willing to bet the Action button never gets recognized as the powerful tool it actually is.
Like the action button, much of the iPhone 15 Pro hardware is made better by iOS 17. The new phone operating system became available everywhere earlier this week and will improve iPhones going all the way back to iPhone X. The iPhone 15 Pro fully takes advantage of the new software. T
he complete list of new features is too long to list here, but things like Standby Mode which utilizes the sharp and bright iPhone 15 Pro screen, FaceTime Messages which uses the iPhone 15 Pro's video capabilities and NameDrop that leverages the ultra wide band wireless connectivity and are all standouts on the new hardware.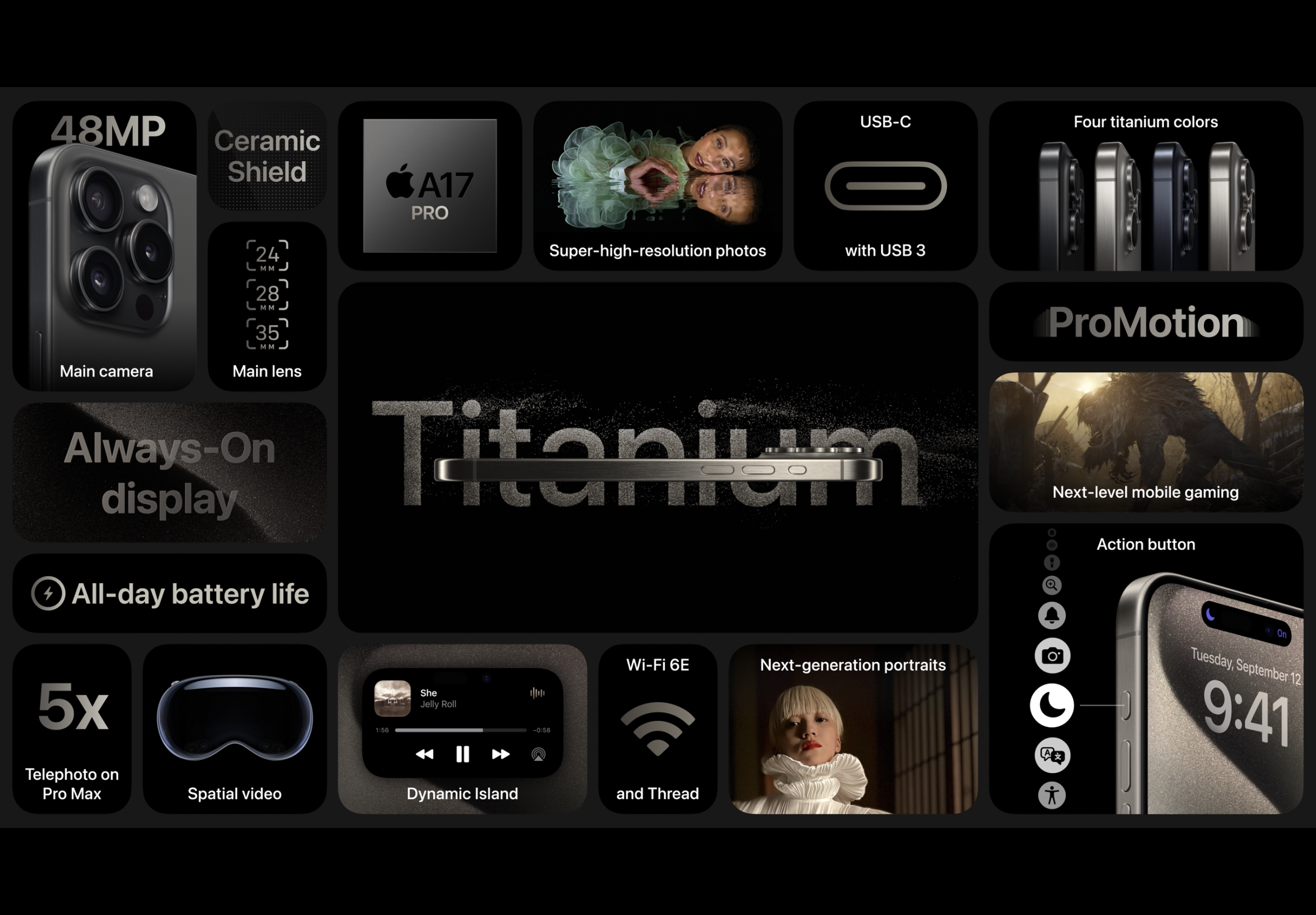 Soon, the iPhone 15 Pro will be everywhere. Not just because it's the new iPhone but because it's one of the most compelling versions of the iPhone that Apple has released in a little while. The features are tangibly better, the refinements have pushed the hardware to the highest bar ever and, even though it's familiar, it's still an upgrade that leaves its predecessors in the dust.
The iPhone 15 Pro is available now. The 6.1" Pro starts at $999 and the 6.7" Pro Max starts at $1,199 and are available through Apple's website.