Aston Martin's James Bond-Worthy Helicopter Is Returning For A Sequel
Styling by the wing-marked supercar marque takes Airbus' $3.3 million ACH130 helicopter to opulent new heights.
Much like a certain debonair superspy who's partial to British supercars and shaken martinis, the Airbus Corporate Helicopters ACH130 Aston Martin Edition has so much international appeal that a sequel is in order.
The James Bond-worthy chopper was first unveiled in 2020, when it was announced that the 15 limited-edition ACH130 models styled by the wing-marked auto marque would be produced. All but one have since sold worldwide in Southeast Asia, Europe, Latin America, New Zealand and North American, prompting the two companies to continue the collaboration with another 15 ACH130 helicopters.
"We really did not imagine that the market would move so fast," said ACH executive Frederic Lemos during a press conference at the EBACE aviation summit in Geneva, per Robb Report.
"There's no question that bringing together our values of excellence and quality with Aston Martin's commitment to high performance automotive elegance resulted in a helicopter that excites customers."
The stock ACH130 is already an exceptional aircraft, featuring seating for six in an elegantly decorated interior, a 134-knot (154-mph) top speed, a maximum range of 347 nautical miles (400 miles), and a maximum endurance of 4 hours and 13 minutes.
Aston's makeover offers one of four different external liveries—the one pictured is a graded Stirling Green fading to Jet Black on the underside with Skyfall silver cowlings—but Xenon gray, Arizona bronze and Ultramarine black were also originally available.
Inside, Pure Black ultra-suede trim is paired with a palette of selectable leathers including Oxford tan, Cormorant brown-black, and Ivory white. The rear of the front seats sees the same brogue detailing found in the Aston Martin DB11 grand tourer's doors and center console, while a special-edition plaque commemorates the upscale collab.
"As an ultra-luxury brand, Aston Martin is passionate about collaborating with designers and engineers from other disciplines to create special products that represent both our brand values and design ethos," said Marek Reichman, Aston Martin's executive vice president and chief creative officer.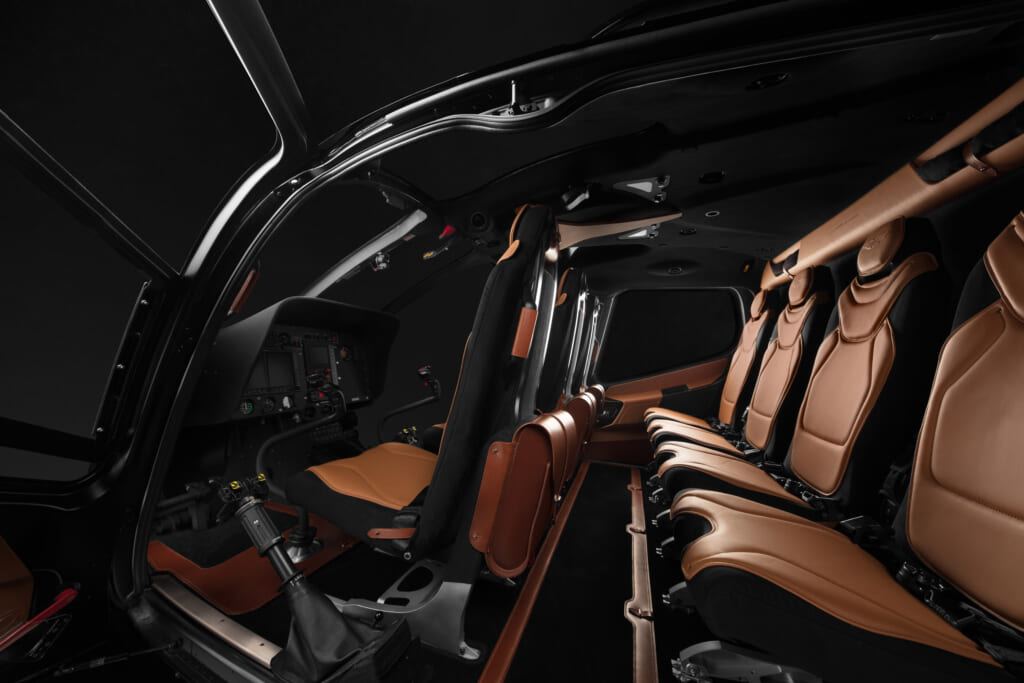 "We are delighted with the high interest in the ACH130 Aston Martin Edition and look forward to continuing our fantastic relationship with ACH."
Those interested in purchasing one of the 15 upcoming ACH130 Aston Martin Edition helicopters can inquire here, but be prepared to pay a premium of the standard aircraft's $3.3 million base price.