The Ultimate Rolls-Royce Road Trip Through California Wine Country: Part II
More wine and food-fueled Northern California adventures in a custom orange Cullinan SUV.
When we left off the other day in Part I of this incredible excursion, we'd just wrapped up dinner at The French Laundry with the Luxury Rally Club. The Rolls-Royce Cullinan in its bespoke shade of St. Tropez orange proved a prescient choice of wheels; no lesser vehicle could have held its own with the fleet of priceless Porsche Carrera GTs that LRC's members scrambled for the epic event.
Normally following along behind is not our preferred method of locomotion, but despite its impressive power—at 563 hp it the Cullinan is just 40 horsepower short of the highly-coveted Porsche supercars; upgrade to the Cullinan Black Badge edition and the number climbs to 600 hp—but we were content to bring up the rear in impeccable style on this occasion.
The Cullinan was in effect the ultimate support vehicle; should one of the Carrera GTs experience any issues en route, they'd be relying on us as a sort of mobile command post, producing a bottle of champagne from the built-in cooler in the rear passenger compartment while help was summoned. Hell, they could even take in a movie thanks to the Rear Theatre Configuration our car was fitted with.
Luckily nothing untoward occurred, and we all rolled into Alila Napa Valley, our home base for the first two days of the LRC event effortlessly and elegantly. The Cullinan, as it always is, was accorded a prime parking space right out front, and served as a suitable grace note for the stunning property in St. Helena amidst some of the world's best wine country.
The adults-only hotel, which became a part of Hyatt's prestigious Alila portfolio in 2021, offers the most stylish boutique luxury stay in all of Napa Valley, with a blend of old and new architecture that represents the very best of the heart of California wine country, where innovation and tradition go hand in hand.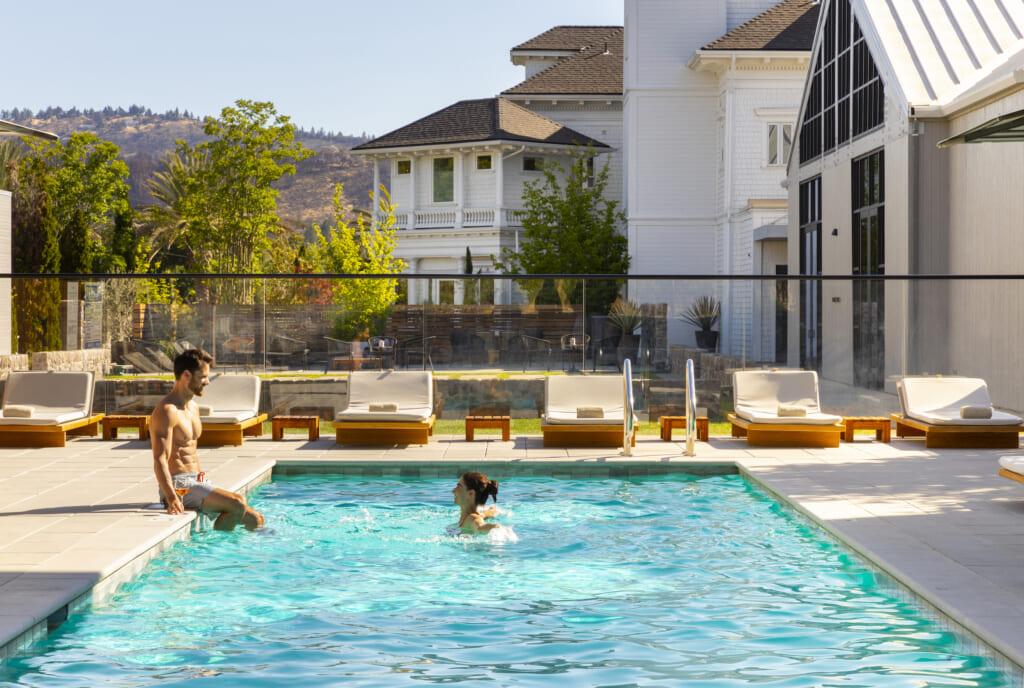 The hotel features 68 luxuriously-appointed guest rooms and suites, with oversized balconies or wrap-around terraces with outdoor fireplaces, many overlooking the beautiful vineyard to the rear of the property, or the iconic Beringer winery next door. The main Georgian-style building housing the restaurant and bar was constructed in 1907 and it sets an elegant tone for the hotel as a whole.
In addition to the restaurant, the property is home to a newly-rebranded 3,500 square foot Spa Alila and Fitness Center, an outdoor pool that overlooks the vineyard, 5,500-sq.-ft. of event space for small meetings and social gatherings of up to 100 people, where the Luxury Rally Club staged its members' dinner, and of course all of the Alila brand's signature amenities and services.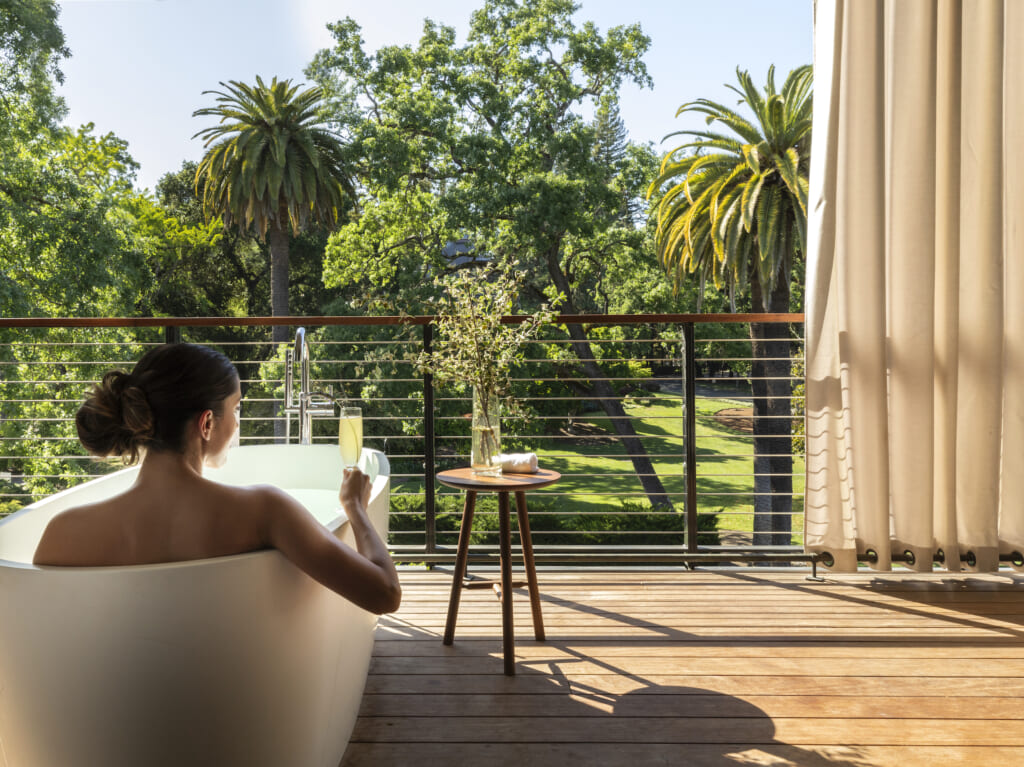 This is the second U.S. property for the Alila brand joining Ventana Big Sur, an Alila Resort. According to Hyatt, "the hallmark of Alila hotels is the combination of innovative design and luxury in unique locations, set apart by an unprecedented level of private space, crafted artisanship, personalized hospitality, and bespoke journeys," as a stay at Alila Napa Valley demonstrates admirably.
It is home to Acacia House by Chris Cosentino, which has quickly gained renown in a region known for its impeccable culinary standards. Seasonally-driven, farm-to-table dishes that reflect the rich bounty of Napa Valley are the main attraction, with the updated interior of the 1907 building offering a welcoming environment for stylish dining without pretension.
Menu standouts include sea urchin cacio e pepe with fines herbs; Marco Polo style hamachi collar with chili, garlic, mint, and lemon; and Liberty Farm duck breast withb spring fruits, Tokyo turnips, and local St. Helena honey. Of course there's an artfully-curated wine list, as well as craft cocktails, with options for dining and sipping inside or on the stately porch.
For the final evening of the Luxury Rally Club's Carrera GT event, we assembled our armada of incomparable Porsches, plus one bright orange Rolls-Royce, at Aperture Cellars, the avant-garde winery in Healdsburg founded by industry wunderkind Jesse Katz, famous for having made a world-record $1 million bottle of Cabernet. Katz led us through a tasting of his amazing Aperture wines paired with a tasting menu from a chef that, while less complex, rivaled anything we had at The French Laundry. Aperture's cool architecture and the setting among Katz's vineyards didn't hurt either.
At the conclusion of the Aperture dinner, LRC founder Trevor Johnson presented awards to the car collectors who brought their museum-quality Carrera GTs on the rally. Liht Organics, a high-end organic beauty brand from Singapore founded by Nerissa Low, created custom prize boxes with CGT models on them and treasures nestled within. Mar Keith Anthony of V-Moda then presented each participant with custom Crossfade II bluetooth headphones adorned a sketch of the CGT by its original designer. Many prize winners also celebrated by ordering some of the coveted Aperture wines that are only available at the brand's tasting room.
For the final night we established our HQ just down the road from Aperture at Hotel Healdsburg. The hotel has a contemporary wine country feel, with strong Sonoma vibes and an airy, natural-focused decor. The property features country gardens, a landscaped pool, a luxurious spa, and famed Chef Charlie Palmer's Dry Creek Kitchen, showcasing Sonoma County's bounty of extraordinary wines and fresh seasonal ingredients. We even had a chance to explore Healdsburg the next morning thanks to the hotel's central location.
Soon enough of course we were itching to get back behind the wheel of the Cullinan. Though as the crow flies, it would be one of the shorter drives since our destination was also in the Healdsburg area, at the incredible new The Madrona hotel, we collected Katz from Aperture and he took us on a scenic route, both on and off road, in and around some of his more picturesque vineyards; his holdings are vast and cover various types of terroir, allowing him to make a variety of delectable wines.
The brand new boutique hotel is the work of renowned designer Jay Jeffers, and occupies the eight-acre site of a historic Healdsburg property that had begun to go into decline. Designing for a "new age of traveler," Jeffers created "bold, spirited spaces" that make the most of the original 1881 mansion's beautiful architectural details, significantly enhanced during Jeffers' renovations. Many aspects of the hotel are an homage to the original owners, who were both world travelers and quintessential Northern Californians.
"High-design, exceptional food and drink, thoughtful amenities, and scenic views," are the pillars of Jeffers' vision for the pulchritudinous property, and it has a kind of Chateau Marmont feel with a Sonoma vibe that's totally free of pretension and playful in places, such as the custom wallpaper in the Owner's Loft where Jeffers' face among others can be spotted in the eye-catching pattern. The decor overall is a "modern-day interpretation of late 19th century aestheticism, a movement dedicated to pure beauty, combining intellect with art and the exotic," as Jeffers puts it, and mixes vintage art and antiques with contemporary pieces in a vivid style.
The 24-key hotel features both classic suites in the main Mansion and a collection of private bungalows, spread across six buildings including the estate's original carriage house, some of which date back to 1861. No two rooms are exactly alike thanks to the historic and often quirky elements. Mansion suites include the original living quarters of the Paxton family, and many feature soaring ceilings, bay windows, original fireplaces, and large balconies overlooking the hills of Dry Creek Valley.
The Mansion is also home to The Madrona's bar, and restaurant, an indoor-outdoor, all-day dining experience helmed by Michelin-starred chef Jesse Mallgren. It's designed to "embrace a spirit of revelry and the cultures, flavors, and welcoming hospitality that define Northern California." Many of the ingredients Mallgren uses are sourced from the propety's extensive fruit, vegetable, and herb gardens. Signature dishes include such Chicken Paillard infused with Southeast Asian flavors from his travels throughout Thailand; Steak Tartare with goma dare sauce, quail egg and fresh wasabi; and Local Anchovies cured with Madrona lemons, featuring fennel pollen from the onsite garden and DaVero olive oil from The Madrona's neighboring farm.
The property is also home to an inviting wrap-around Front Porch, a heated pool designed a social hub with fire pits and lounge areas, a gym, and more. One of our favorite aspects is that the hotel's extensive and well-curated drinks offerings, from inventive cocktails to rare spirits, and a wine list that "goes beyond Sonoma's borders to embrace the work of winemakers around the world," are available in all of the numerous spaces that are perfect for relaxing with friends or just a good book.
Leaving Sonoma the next day, we piloted the Rolls back to Napa Valley and our return stay at The Estate Yountville. For this segment of the perfect road trip we checked into Vintage House, and also got a sneak peek of the private villa that can accommodate larger parties and those who want a bit more space and luxury on their stay. The five-bedroom property has a beautifully-designed indoor and outdoor lounge areas, a private pool, Jacuzzi, and gourmet chef's kitchen.
Bedrooms are designed as "delicious sleep sanctuaries," graced by handcrafted Hästens mattresses from Sweden that start at around $10,000 and are often reckoned the world's best. All bedrooms feature en-suite bathrooms with double vanities, deep soaking tubs and ESPA bath amenities, while each Villa room's décor is inspired by a distinct Napa grape variety and pays homage to Napa Valley's heritage with a contemporary twist.
Even better, all of The Estate Yountville's accommodations are in close proximity to The Spa at the Estate, one of wine country's most beautiful and relaxing escapes. Designed like a Napa Valley country manor, with tasteful lounge areas and several fireplaces both indoors and out, it encompasses a variety of private spa suites, hydrotherapy rituals, eucalyptus-infused steam rooms, dry saunas, and more. We opted for a deep-tissue massage that had us walking around with a blissful smile for the rest of the day.
Yet another benefit of a stay at The Estate Yountville is the various offerings at the property's historic Marketplace, chief among them Bottega Napa Valley. One of wine country's most acclaimed dining venues, it's where celebrated chef Michael Chiarello "shares the culmination of his life's work, bringing together the best of Italy and Napa Valley in one unforgettable dining experience through traditional family recipes prepared with an inspired California twist."
The setting is beautiful, warm and glowing and an artful backdrop for Chiarello's signature seasonal farm-to-table Italian cuisine. An award winning chef/vintner & Food Network host, at Bottega Chiarello "celebrates his Italian roots and the Napa Valley with a menu echoing his long practice of using the finest locally/sustainably produced food." Service is utterly impeccable, and of course there's a wine list that would make any oenophile weep with joy.
Speaking of wine, although taking place in wine country, the focus of this trip was not on actual wineries, aside from the mission-critical evening at Aperture. We did however find time to visit the Memento Mori tasting salon in Downtown Napa, which insiders know is something that can't be missed. The boutique winery specializes in cult 100-point Cabernet Sauvignon from some of the most famous vineyards in Napa Valley.
The appointment-only tasting salon has a "modern gothic" meets industrial vibe, and carries over the design-forward ethos of the brand in general. Memento Mori made headlines last year when its top-selling Premiere Napa Valley auction lot was one of just two that sold for over $1,000 per bottle, quite an achievement for a winery that's still relatively new to the scene. Their winemaking style is "hedonistic," and it is meant to be enjoyed while young. As the founders see it, "life is too short to not make the best wine we can simply because it bucks tradition or capitalizes less visibly on expensive vineyard sources."
From there we embarked on our final leg of the journey, returning to the stately Fairmont San Francisco, where, sadly, Rolls-Royce was sending someone to retrieve the Cullinan. Having wisely kept our bottle of Memento Mori unopened for later tasting at home, we were able to enjoy one last exhilarating drive in the St. Tropez stunner before pulling up to the Fairmont's elegant entrance in princely fashion. The doorman of course recognized us—how could he not?—and the welcome we received was positively regal.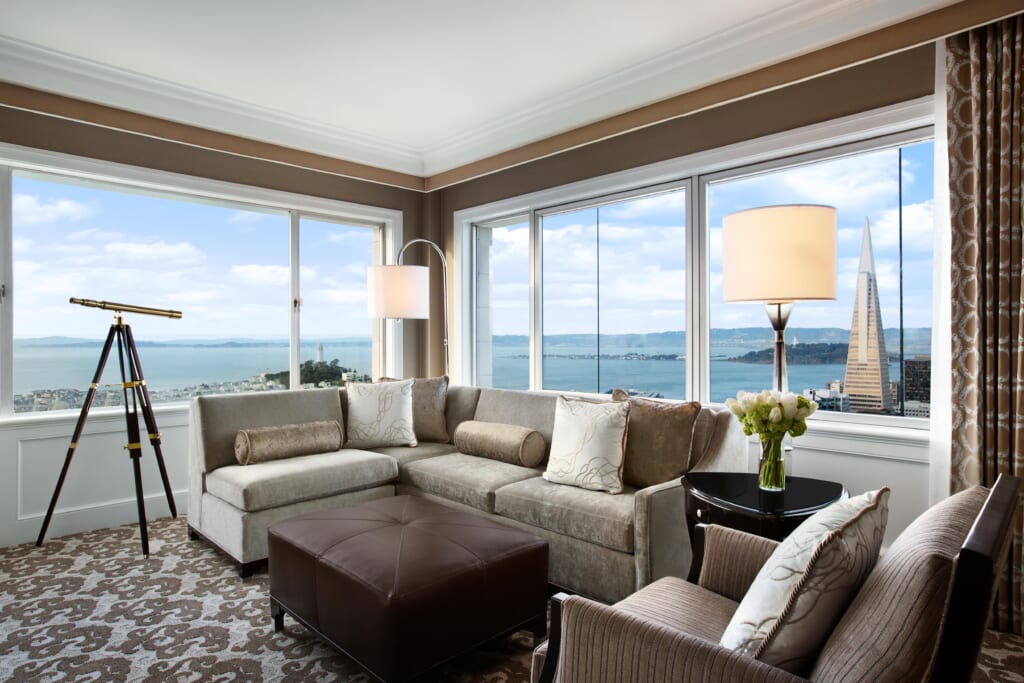 Checking into our upper-floor suite, which had a postcard-worthy view of San Francisco Bay such as no other hotel of this caliber can boast, we got ready for the final night of the epic trip and a visit to one of the Golden City's most interesting and charismatic places to drink and dine—right in the Fairmont's expansive street level spaces: The Tonga Room & Hurricane Bar, a historic tiki which opened in 1945 and was remodeled in 1952 and 1967, and remains an icon of the Bay Area.
Most famously, the Tonga Room features a bandstand on a barge that floats in a lagoon made from what was once a swimming pool; a dining area built from parts of an old sailing ship; and artificial thunderstorms that actually rain indoors. The Tonga Room was once threatened with extinction, but the iconic landmark remains open to this day and serves some of the best tiki drinks and pacific islands-inspired cuisine that you are likely to find anywhere in the world.
Be aware however that some of the concoctions are extremely potent, as a proper tiki drink should be. It's just as well that our driving was done for the trip, allowing us to indulge in classic creations like the Fog Cutter and original recipe Mai Tai (1944) and Zombie (1934), served in a variety of glassware and tiki mugs. Not to mention the Tonga's own specialties like the aptly-named Sailor's Guillotine, with rhum agricole, absinthe, French herbal liqueur, Falernum, pineapple and lime. Bottoms up—but not in the pool/lagoon, because there's a hefty fine for taking an unauthorized dip. Which you might be sorely tempted to do after a couple of Fog Cutters.