This $1 BILLION Superyacht Has Its Own Airplane Hangar & Submarine
The unabashedly imaginative G-Quest is designed to tackle humanitarian and research objectives in total luxury.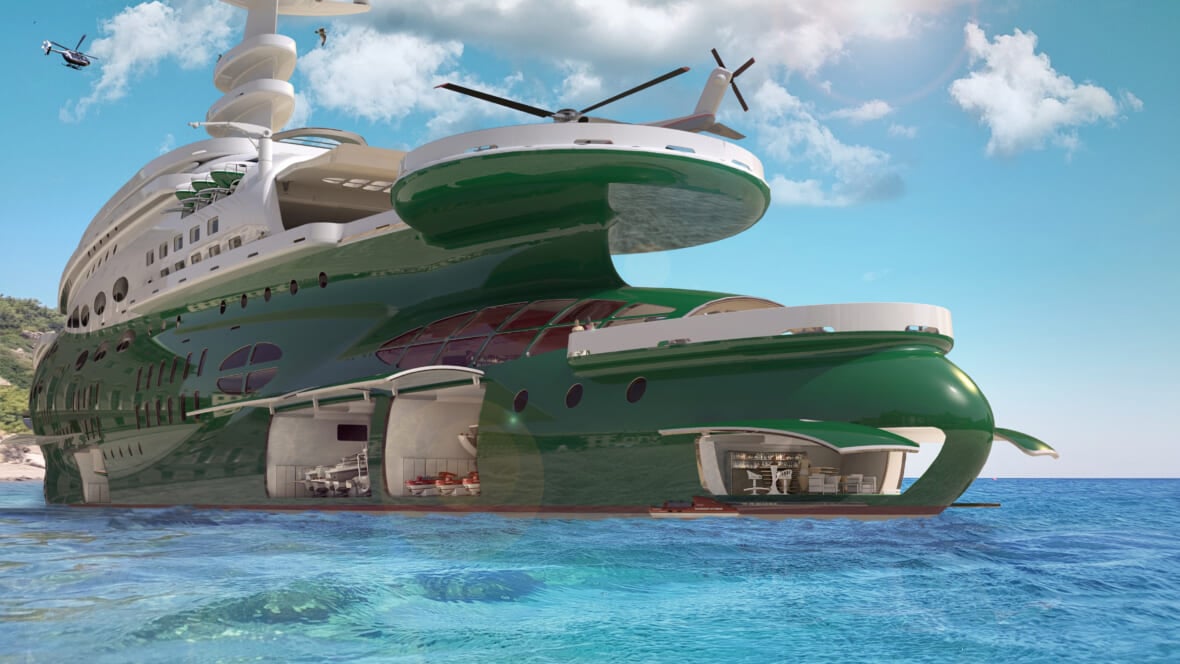 Owning a multimillion-dollar superyacht may seem like the ultimate financial flex, at least until one considers picking up a private aircraft carrier.
Technically, that's what California-based vehicle designer Steve Kozloff has conceived. As the head designer at Nimbl Vehicles, he crafts bespoke overland camper packages for pickup trucks.
But as the founder of The Goliath Series, a firm specializing in "polar class expedition yachts," Kozloff also independently drafted one of the most over-the-top watercraft ever rendered, even compared to this 3D-printed "invisible" superyacht made of mirrors.
The 215-meter/705-foot-long G-Quest is designed to tackle humanitarian and research objectives in total luxury. The majority of the yacht's space is devoted to accommodating "oceanographic and medical research, green propulsion experimentation, and medical intervention" a statement reads.
Among its most ambitious features is a 6,500-foot aircraft hangar designed to house two Sikorsky S-92 VIP helicopters, various other smaller helicopters, and an electric VTOL craft of Kozloff's own design for transporting personnel. A separate hangar at midship stores two Cessna Caravan Seaplanes, selected for their ability to transport resupply across long distances.
The G-Quest's tenders aren't limited to aircraft. Kozloff has also dedicated garage space for six fully electric Candela hydrofoil "flying boats," an electric ship-to-shore landing craft for transporting vehicles and freight, a U-Worx Research submarine, two SUVs (one of which is a Nimbl exploration vehicle), and three Taiga Orcas—that model made headlines as the "world's first electric jet ski" in 2022.
Aside from a full-fledged fleet of vehicles capable of traversing land, air and sea, the G-Quest boasts some unabashedly imaginative accommodations, including its own oceanographic laboratory, medical laboratory, dive center with compression chamber, MRI and X-ray imaging center, ophthalmology department, dentist's suite, robotic surgery operating rooms, and 20 hospital beds.
On the luxe side, there's a 3,000-square-foot owner's suite with panoramic views at the bow, a large spa and pool on the flybridge, basketball court above the flybridge, another pool with a shaded lounge area above the aft hangar, a dining room at the stern, and a solarium with a second dining area at the bow, plus a beach club with a full bar somewhere—detailed images of the interior are unavailable.
A total of 26 owner's guests will reside on the three upper decks, while an operating crew of 150 including doctors, scientists, pilots, nurses, research engineers will reside in unspecified quarters.
Even the propulsion system is ambitious. Kozloff imagined rotating azimuth thrusters, powered by batteries that are charged by "green fuels of the future"—hydrogen, methanol, and biodiesel are all on the table.
The G-Quest is likely to forever remain a concept, as it would cost an estimated $1-$1.2 BILLION to bring to fruition. Head to The Goliath Series' website to learn more.