Luxury Travel Brands Are Taking Private Jet Vacations To New Heights
"It's no longer just about having the top suite in a hotel or on a cruise, flying first class, or Michelin dining. It is increasingly about privacy and exclusivity, the luxury of experience."
Setting a month-long "out of office" auto-reply is the current leisure-travel power move, if the plethora of new private jet itineraries is any indication of the golden age of remote work for captains of industry.
Take Abercrombie & Kent's Around the World by Private Jet itinerary, for example, priced at $164,950 per person, which comes fully loaded—from exploring everything from Samarkand's Silk Road to dinner at Yas Marina Circuit, home to the Formula 1 Abu Dhabi Grand Prix, followed by a full-throttle auto race put on just for you.
Ann Epting, Abercrombie & Kent's Senior Vice President of Private Jet & Special Interest Travel, tells us, "It's no longer just about having the top suite in a hotel or on a cruise, flying first class, or Michelin dining. It is increasingly about privacy and exclusivity, the luxury of experience."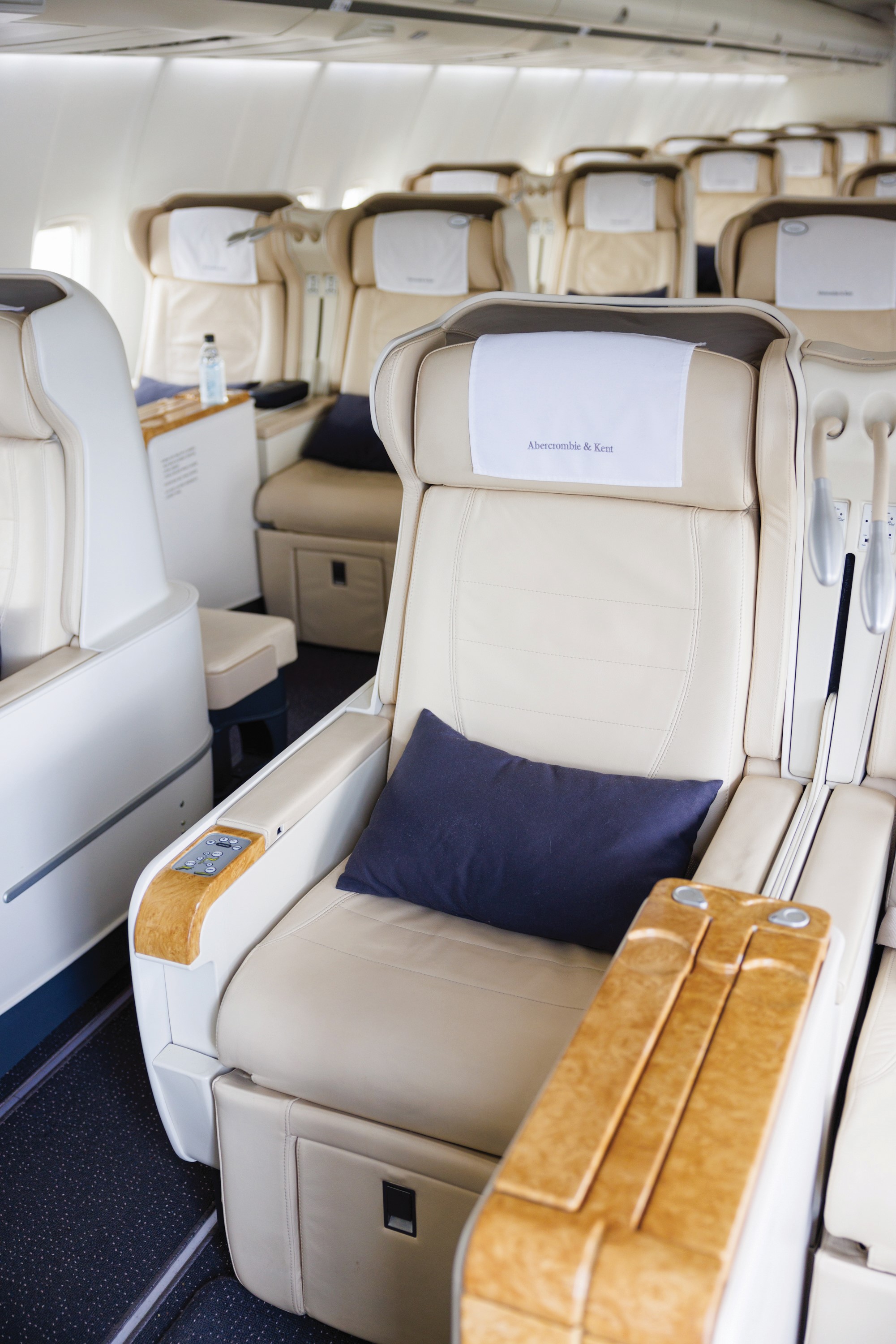 For CrossFit gladiators who happen to be Centurion card holders, A&K even recreated the Naadam Games, usually performed in Ulaanbaatar, in the Gobi Desert, bringing in traditional archery, wrestling, and horsemanship that speak to Mongolia's deep military history. A&K transported a fleet of vintage Alpha Romeos from Rome to Sicily for guests to self-drive Taormina, ending with lunch at Bar Vitelli, the storied 18th-century neoclassical enclave from The Godfather. A full buyout by A&K of course, Corleone style.
Abercrombie & Kent's jet is a Boeing 757 with 50 custom-designed Italian leather seats equipped with a personal massage system, and lie-flat beds more than 6'5" long (79" pitch). Inaugurating the first PJ trip to the Pantanal, Brazil was no small feat—a major operation involving resurfacing runways, converting a domestic airport to international, and flying in a private chef from Rio.
A&K's key flex is access. The fortunate few walked the Copacabana Palace Magic Ball red carpet, and had an all-access pass to party with Brazil's rich and beautiful. The A&K entourage also met up with Brazilian soccer legend Cafu, and gleefully took part in a penalty shoot-out. Then like something out of a Carnival daydream, guests got to shake it on the Samba School float in the parade. Immersive travel indeed. What's next for the legendary adventure-travel firm? Dinner, dancing, and a duet with Anitta?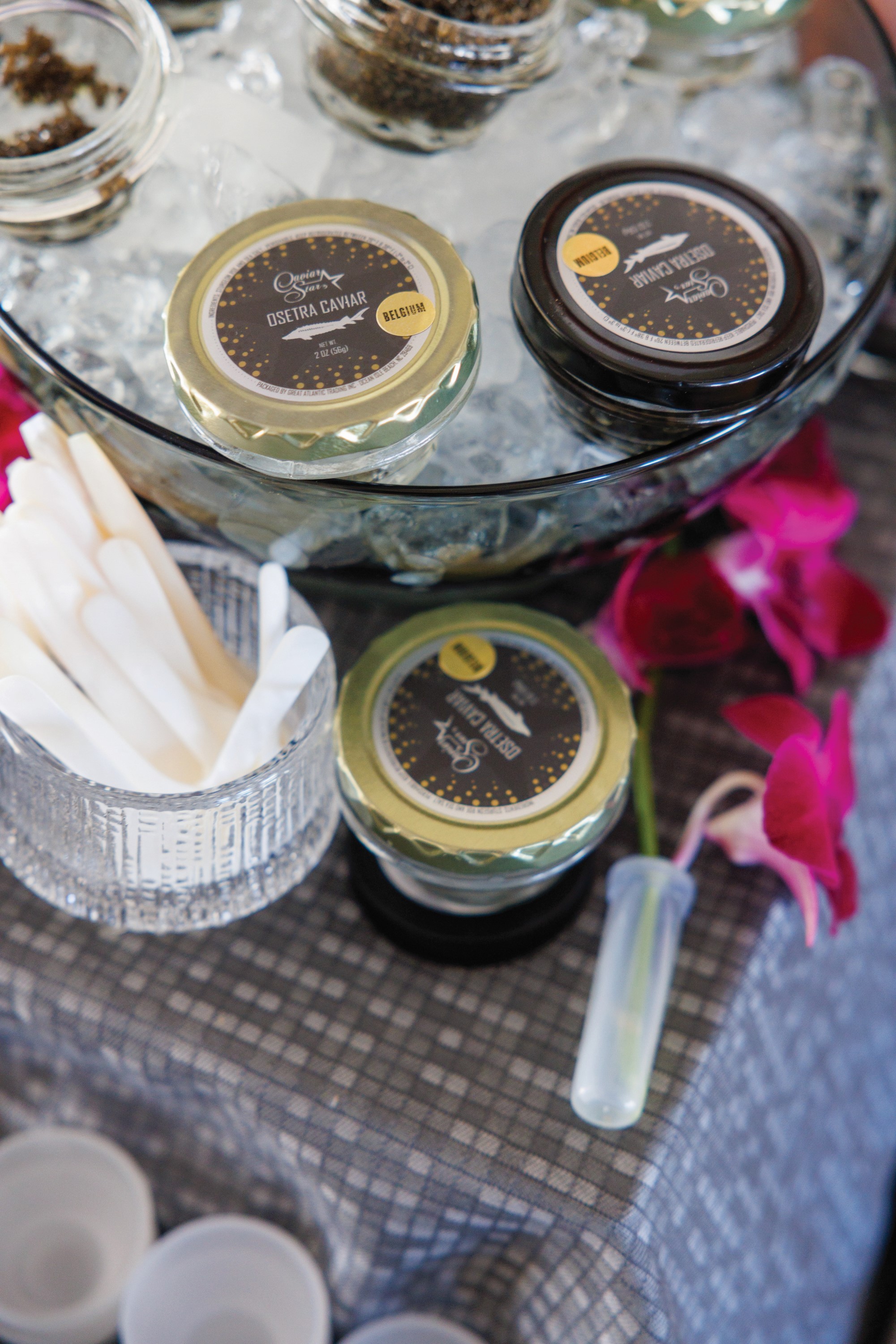 A&K isn't the only company that has literally moved earth to land a jet. Due to shifting ancient glacier ice, White Desert's 1.9-mile-long blue ice runway must be graded and prepared for each flight 22 hours before wheels down, giving the ice similar friction to landing on wet tarmac.
If you've outgrown Monaco yacht charters, shake up your next big splurge with the new White Desert World Seven Continent Adventure, capped at 50 guests, slated for January 2025, from $178,000 per person. Starting in Mexico City, guests will travel to Colombia, Easter Island, Fiji, Borneo, India, Turkey, Namibia, and South Africa, and will finish the journey with White Desert's signature jet landing on Antarctica.
Patrick Woodhead, White Desert Founder and CEO, constantly looks to new technologies to ensure intrepid exploration within his signature sense of pioneering luxury. "Going deep into Antarctica's interior is one of the defining characteristics of a White Desert experience, made possible by plane," observes Woodhead. "And we're the first company to explore the use of sustainable aviation fuel in Antarctica, made from waste oils and fats." The supplement for an Antarctic extension on the six-figure trip starts at $37,000 per person.
Four Seasons' 60-plus-year history of immaculate properties certainly translates in their efforts in the private jet space. "We view the Four Seasons Private Jet Experience as a true extension of our brand," elaborates Marc Speichert, Chief Commercial Officer, Four Seasons Hotels and Resorts.
"The same focus on exceptional quality and service extends to our Private Jet offering, and we continue to enhance the experience to ensure we deliver on our brand promise. Our brand-new Private Jet features a bespoke design aimed at further enhancing comfort and connection on board; the latest and greatest in technology; and offers the widest and tallest cabin in its class."
Fully customized to Four Seasons' exacting specifications, the Airbus A321LR features a 48-seat interior configured for snoozing or socializing in sublime luxury. The flight crew includes a dedicated Concierge, Executive Chef, and Journey Physician.
Level up your Labor Day plans with Four Seasons' new Ancient Explorer itinerary, taking flight in late August 2024, across 24 days with ten destinations spanning five continents ($205,000 per person, based on double occupancy).
Arriving in style means waking up with a cashmere blanket on a handcrafted leather flatbed seat, refreshed and ready to take in the Temple of the Sphinx. Sail Bora Bora's crystal waters aboard a 40-foot catamaran, and nibble on tropical fruit between blissful dips in the South Pacific.
Unless you're allergic to biting satire, you've no doubt seen The White Lotus. A highlight of Ancient Explorer is checking into Four Seasons' iconic San Domenico Palace overlooking the Ionian Sea, a reimagined 14th-century convent now infamous thanks to the hit series. With 20 journeys spanning 35 countries now completed and a 30% repeat guest rate, demand shows no signs of slowing down.
When it comes to passenger density—go figure, the 1% and the 1%-adjacent prize personal space—Aman Jet has the edge. Aman travels with an Airbus ACJ 319 that normally flies 150 passengers, but of course, the super-posh luxury hospitality group refitted it with just 19 lie-flats and lounge seating. The flight itself is a destination to be coveted—an exclusive cocktail party in the sky where you'll definitely want to meet your seatmate.
Catherine Heald, CEO of Remote Lands, who has partnered with Aman remarks, "The key ingredients start with the Aman resorts, the main reason guests choose Aman Jet Expeditions. They love the brand and know the service is the 'ne plus ultra'. Each guest or couple has their own car, driver, and guide to do as they please. The small group size helps to create a strong bond and most guests have gone on to travel on up to five different expeditions, often with new lifelong friends they met on our expeditions."
Bonding over Bora Bora is the social upside of luxury group travel at this level, starting with sunset cocktails. Safrans du Monde's private jet "air cruise" is linguistic genius. A travel designer specializing in luxury tailor-made trips, Safrans du Monde's new World Tour Grands Classiques, running this October 24-November 14, is a social safari of vivid cultural enchantment, peppered with couture gala evenings, and starting at around $75,000 per passenger.
CEO Guy Bigiaoui personally boards each World Tour; he believes quality time with clientele leads to understanding connoisseur expectations, helping Safrans exceed them. "We call it 'Voyager dans un esprit palace.' We are permanently chasing the necessary 'wow effect' that is the real luxury of a travel experience," he muses.
RH is perhaps the most intrepid outlier to scale the "luxury mountain" of private aviation with the launch of RH One, the company's first private charter jet. The A-list design and decor brand is firing on all cylinders fresh off its new RH Guesthouse luxury hotel concept, and oh, bankrolling an entire Aspen real estate enclave into a seamlessly branded "ecosystem."
Available for charter, the cabin of their 12-passenger Gulfstream G650ER is clad entirely in the brand's signature aesthetic, brushed European pale-white oak, bringing forth a quiet timber cocoon cosseting a dozen streamlined lounge chairs upholstered in fine charcoal linen.
This foray into jets took engineering au maximum—auspiciously marking the first all-wood interior Gulfstream has ever installed. The floors are adorned with hand-tufted wool, silk and cashmere. We can't help but picture Margot Robie on tiptoe, reaching for a blanket—barefoot down the aisle aboard RH One isn't cringe, it's cush. And to keep the livery on brand, they went with a champagne paint for the undercarriage, to accentuate aeronautical form.
The jet will double as the company's own innovation center in the sky—a space for entertaining strategic partners, collaboration and ideation sessions. Gary Friedman, the chairman and CEO of RH, is clearly on a mission to reinvent the company as a global thought-leader and tastemaker.
At a cultural moment in which time and privacy are the most precious aspirations, RH hopes to deliver a completely realized idea—an ecosystem of harmonious lifestyle offerings, upgrading to synergic spaces and services. Wheels up takes on a whole new meaning when cocktails, canapés, and cashmere blankets are involved.