15 Bottom-Shelf Bottles That Are Worth Every Penny
How to drink like a king without breaking the bank.
Left: Teacher's
Parsing the world of bottom shelf booze is kind of like digging through dollar records bins —search long and hard enough, and you are sure to find some gems amidst all those Foghat and Richard Marx albums. But you have to know what to look for. The main thing to keep in mind is that you don't have to spend a lot of money to find decent booze, and often booze that is better than OK, that's actually pretty damn good.
"'Bottom shelf' is a slippery slope of a title," says H. Joseph Ehrmann, owner of Elixir in San Francisco. "I think that when you say that term people cringe. I would not call anything worth drinking 'bottom shelf,' but rather a 'budget' or 'value' brand." 
Whatever you call it, bartenders tend to love the stuff, and are a good source of intel when deciding what to buy. Brett Esler from Whisler's in Austin is a big fan of Mellow Corn, for example. 
"Absolutely worth drinking," he says. "The bottle price might signify a 'bottom shelf' spirit, but I prefer 'inexpensive,' as this stuff is delicious."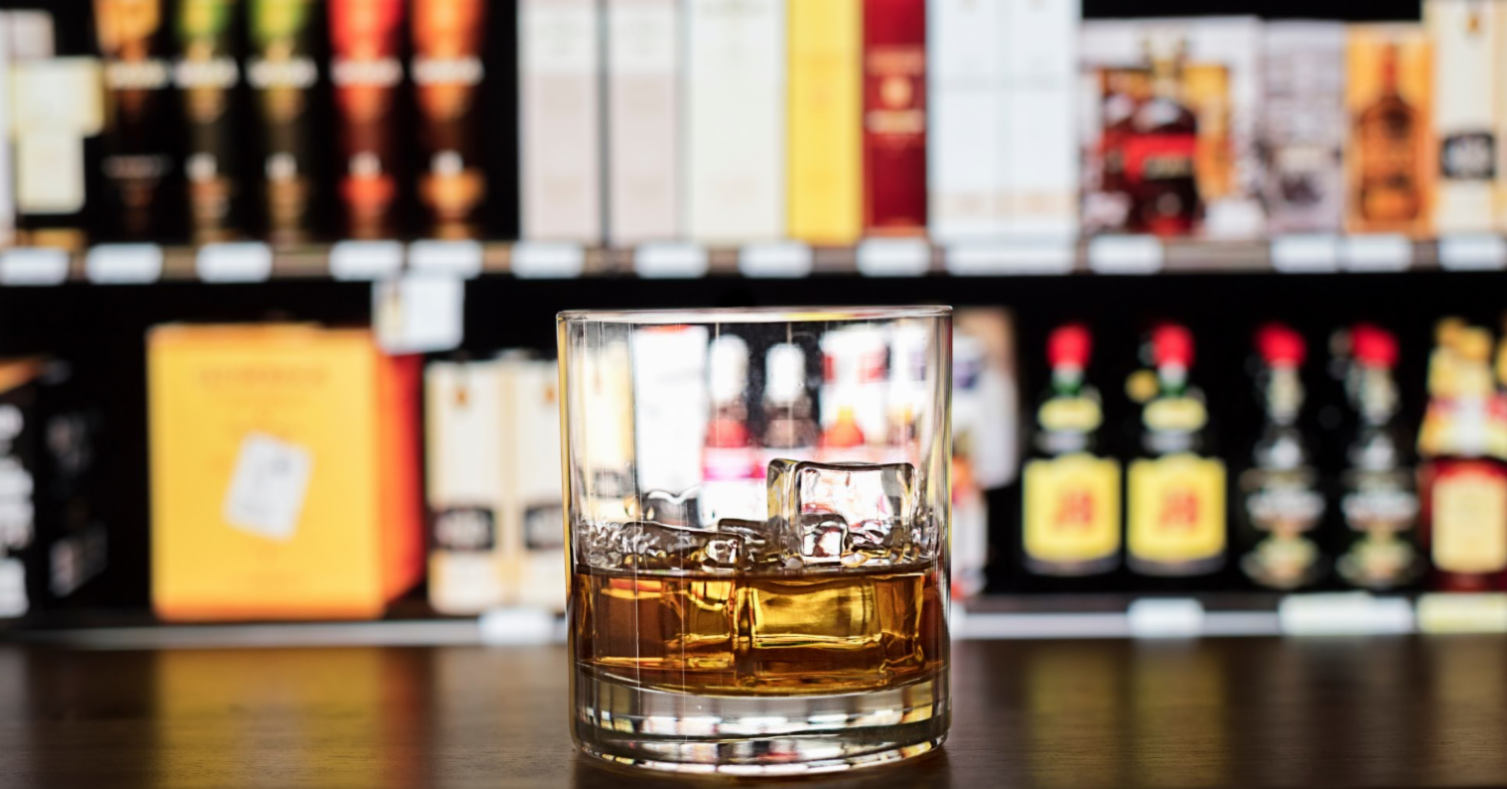 Bar owners and managers who carefully curate their liquor selection tend to give as much thought to the well as they do the top shelf. 
"I know the best way to make a profit in a cocktail is to use higher-end spirits," says NoMo SoHo's Xavier Herit. "But it's also very important to me to maintain the quality of spirits – you don't want to end up with a big headache the day after."
Of course all the major brands have their inexpensive flagship expressions – Jim Beam White Label, Evan Williams Black Label, Jack Daniel's, Wild Turkey 101, Russian Standard, Bacardi. But most of these can run over 20 bucks, and sometimes you need a little extra cash for a burger to soak up all that booze. 
So don't be afraid to get thrifty, get down on your knees, and pray to the gods of the bottom shelf at your local liquor store, where you can find one of these dependable but often ignored bottles.
https://www.instagram.com/p/Beoks26BIhk
It's no secret to whiskey fans that Beam Suntory's Old Grand-Dad is very good, inexpensive bourbon – especially the 100-proof bottled-in-bond version. This bourbon is way better than Jim Beam White Label, even though it's not nearly as popular. Stores have caught on and are now sometimes charging $25 and over for a bottle, but keep looking and you can find prices as low as $16 or $17. ($16-$20)
https://www.instagram.com/p/Bfi5eTXhYIh
Fighting Cock is produced at Heaven Hill, the same distillery that makes the extremely popular Evan Williams. It used to have a six-year-old age statement, but that has disappeared from the bottle. This spicy, hot bourbon clocks it at 103 proof – that and the name lead one to believe it's pretty pointedly trying to compete with Wild Turkey 101. It's not the most refined bourbon you'll ever drink, but it has lots of redeeming qualities for the price. ($20)
https://www.instagram.com/p/BHFZmeRDdhF
Old Crow is another budget bourbon from the Beam Suntory family. Its history dates back about two centuries, but the product you'll find on shelves nowadays is far from what it once was as far as quality is concerned. Still, this three-year-old, 80-proof bourbon is better than others at its price point, and your Coke won't be mad at you for mixing with it, if that's what you're into. ($16-$20)
https://www.instagram.com/p/BfGKiONA7Pr
Mellow Corn is not bourbon – it's corn whiskey, made with a 90 percent corn mash bill and aged in used barrels from Heaven Hill. Many bartenders are fans of this under-recognized whiskey; they value its cheap price, sweet flavor profile, and 50 percent ABV, a feature that makes it tough enough to use as the main spirit in cocktails. ($12-$15)
https://www.instagram.com/p/BTPYU9IAPgH
Ezra Brooks Bourbon is a decent bottom-shelf pick, but the new rye is worth checking out as well. The whiskey is a two-year-old MGP product bottled by Luxco, and it tastes like what it is – young, spicy, and not particularly complex. But it's a very good value and can stand up to higher price products from MGP like Bulleit or Templeton that are pretty much the same juice. ($20)
https://www.instagram.com/p/BYRuFMMF1RK
If you're looking for cheap blended scotch, there are some really awful options out there. Fortunately, there are some decent ones as well. Clan MacGregor is a NAS blend from William Grant & Sons (the company behind Glenfiddich and The Balvenie) that does big business around the world. It's light, malty, and has just a hint of smoke that doesn't overpower. And if you don't like it, it didn't cost you much anyway. ($15)
https://www.instagram.com/p/BddLK4MFL-4
This is Beam Suntory's flagship cheap blended scotch. It uses whisky from Ardmore as its primary flavoring liquid, giving it a nice, light smoky character. Despite its name, and to the disappointment of some, there is no cream involved here. Still, it's easy to drink and you could do a lot worse. ($20)
https://www.instagram.com/p/BfDea6hjdWE
You got your Beefeater, your Tanqueray, your Bombay Sapphire… but as far as good, cheap London dry gin, there's always Gordon's (it even comes in plastic bottles for the extra thrifty). This is solid, no-frills, juniper-forward gin that makes a fantastic martini. It was also the gin specified by James Bond for making his Vesper cocktail in the novel Casino Royale, which has got to count for something. ($12-$20)
https://www.instagram.com/p/BekU0L9hCX6
You may not be familiar with Greenall's, but you've certainly drank gin produced by G&J Distillers, the number two gin distiller in the UK that also contracts out for brands like Bombay Sapphire. This gin doesn't mess around with fancy botanicals – the flavor profile is pretty much just juniper with a little bit of citrus, and will make your gin and tonic very happy. ($20)
https://www.instagram.com/p/BZ2WJSJnJND
Let's face it; vodka kind of sucks, and cheap vodka kind of sucks even more. At best, it's going to be clear, flavorless liquid that doesn't taste like rubbing alcohol. If that's what you're looking for, try Monopolowa. It's made from potatoes, so it's kind of like you're drinking a vegetable if you really stretch your imagination. ($16)
https://www.instagram.com/p/Bd9I6dFFqmc
Taaka Vodka is owned by the Sazerac company, so fittingly during Mardi Gras a King Cake-flavored expression is released. That sounds pretty gross, but the regular old flavorless version is distilled four times before being filtered through charcoal, making it a pretty smooth sip for such a low price point. ($12)
https://www.instagram.com/p/-a0qhRjQA8
When you're looking at the bottom shelf, odds are that the tequila you see will be a mixto, or a blend of agave spirit and a bunch of added sugar. This type of tequila is not good, and all that sugar will leave you with a bad hangover. But Zapopan is decent 100 percent agave tequila that actually comes in an aged version at a really cheap price. Your head may still hurt the next day if you drink too much, but that's on you. ($16)
https://www.instagram.com/p/Beo_hgPF-Gm
Lunazul is a tequila brand that was founded by a former owner of Jose Cuervo. It's 100 percent agave tequila, and is distilled in cognac stills, giving it what some describe as a light, citrusy flavor. But most importantly, this is affordable, unfussy tequila with which you can make a bunch of margaritas without breaking the bank. ($20)
https://www.instagram.com/p/BY4e6VpFkeh
Rum can be a tricky spirit as far as figuring out quality, even when you are willing to spend some cash. The rum industry is notoriously unregulated, misleading age statements are frequently printed on bottles, sugar is often added, etc. So if you're gonna go cheap, go with something that is simple and basic. Don Q Cristal from Puerto Rico fits the bill, a white rum that's aged for a few years in American oak and filtered to remove any color. ($11)
https://www.instagram.com/p/BNxfPViDc3O
People tend to overlook vermouth. If they have a bottle, they keep it for way too long in a cabinet instead of the refrigerator. People, please refrigerate your vermouth and try and use it within a month or two (and buy small bottles instead of big ones). It'll taste much better this way. Also, no need to spend more than a few bucks on something fancy – go with Martini & Rossi sweet and dry vermouths to make a solid Manhattan or martini. ($8)