Paige Spiranac Blasts Patrick Mahomes' Family While Ranking Best & Worst Pro Athletes On Social Media
The "OG Insta golf girl" also dished on Tom Brady and Kevin Durant.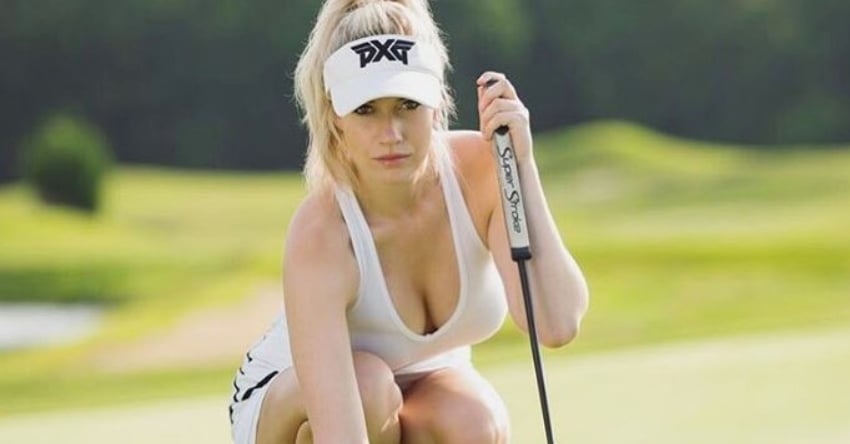 Patrick Mahomes may be an undeniably talented Super Bowl champ, but the Kansas City Chiefs quarterback's family's social media skills leave much to be desired–at least according to Paige Spiranac.
The "OG Insta golf girl" knows what she's talking about. With 3.3 million Instagram followers, she's easily the internet's most popular golf influencer, even surpassing the 2.9-million following of golfing GOAT Tiger Woods—something she attributes to "two big reasons."
Spiranac also boasts another 271,000 subs on YouTube, 1.3 million followers on TikTok and another 500,000 on Twitter, as BroBible points out. So when naming the top three athletes with the best and worst social media presences, her opinion holds serious weight. And unfortunately for Mahomes, the Chief QB and his family occupy her bottom three spots.
"Coming in at number one, two and three is the Mahomes family—no explanation needed," she said as the quarterback's younger brother Jackson appeared in the corner doing a goofy TikTok dance.
Jackson's antics on and off social media have no doubt been distracting. He was filmed pouring water on Ravens fans after a Chiefs loss in September, something he defended on Twitter after the fact. He was also called out for allegedly scamming a snack company and ripped by a Kansas City bar that claimed he was rude to staffers, among other reportedly unsavory acts, as the New York Post notes.
Patrick Mahomes' wife, Brittany Matthews, was also lambasted on social media for spraying champagne on Chiefs fans in freezing conditions after they won the AFC Conference Championship.
Spiranac also weighed in on which athletes are social wizards, giving Tom Brady top marks for his "funny, engaging and creative" posts.
The seven-time NFL champ doesn't shy away from humor. In one recent post promoting the final episode of ESPN+'s Man in the Arena doc chronicling his career, he wrote, "For now at least, sorry if I messed that up with the whole unretiring thing guys."
Brady was poking fun at his his decision to come back for another season with the Bucs just weeks after announcing his retirement He'll have a job as Fox Sports' lead NFL analyst worth a rumored $375 million when he does eventually hang up his cleats.
Golden State Warriors star Kevin Durant, who recently feuded with Charles Barkley over the broadcaster's odd "bus rider" analogy, came in at No. 2 on Spiranac's best social media rankings.
"[Durant is] not afraid to be shady. He will get in the mud and mix it up with people. He loves some controversy, and I love that when I'm following someone," Spiranac explained.
Four-time PGA Tour winner Max Homa, who's coming off a win at the Wells Fargo Championship, rounded out the top 3 because "out of all the robot golfers, he's not afraid to show his personality," Spiranac said.
Homa is indeed a worthy Twitter follow, as evidenced by a tweet to his unborn son posted the day of his title-winning performance.
"My soon to be born son is gunna have a hell of a job topping that Mother's Day," Homa wrote. "Good luck kid!"